March 27, 2015
My third unique Boston experience was a visit to The Rashi School , a Reform K-8 religious day school. I'd heard about the school years ago and loved the idea that the Reform movement would name their days schools after Rashi. In a bashert turn of events, my cousin Sharon Antonoff Miller, daughter of the cousins I was staying with, is a teacher there. She was eager to have me visit, and again it was bashert that I not only had an entire morning free on Monday, but the weather was clear and sunny.
So it was arranged. I visited several classrooms, each of which had student ambassadors who explained to guests what their class was studying. The middle-school children were at Tefillah, which being Monday, included a Torah service. Often, when the week celebrates an upcoming Bnai Mitzvah, the child leads services and reads from Torah at school first – sort of a dress rehersal.
I was particularly impressed with the art, music, & science classes, but what impressed me most were the enormous snowdrifts outside.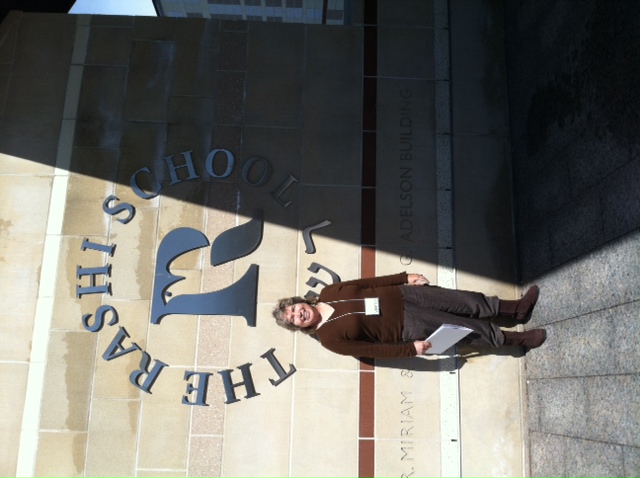 Posted by at 11:19 AM | Comments (0)
March 25, 2015
Now for the second experience, for which I benched gomel at synagogue when I got home. Last Sunday I spoke at the Northeast Hadassah Region conference and by the time I finished it was snowing lightly. I had a dinner date with a friend, Sue Weiss, who used to live in Glendale when I did years ago, although she's lived in Boston for seven years now. She is a recent widow, whom I hadn't seen since her husband's funeral. Because of the weather she suggested a restaurant in an indoor mall, which also gave us time to walk around first without freezing.
It was snowing harder when we left, and Sue admitted that the rare times they needed to drive in the snow, her husband Ken always drove. She still missed him terribly but what could she do? He was gone and she was still here. On our way back to my cousins in Lexington, we were coming over a hill on Route 2A when we saw a car stopped at the bottom at a T-intersection. Sue hit the breaks, our car went into a skid, and she managed to swerve around the stopped car and turn right onto the highway. Thank Heaven no cars were coming up the hill or going in our direction on the highway. I had some moments of terror thinking that she'd end up meeting her late husband and I'd be in the hospital.
Finally she was able to slow down, pull over and park until we could catch our breaths. A few minutes later we were in my cousins' driveway, and soon after the snow changed to rain. Still I gave a big sigh of relief when she called me 45 minutes later to report that she was home safely. And the next day I saw in the news that Boston had received enough snow [3 inches] that afternoon to make the record for snowiest winter on record. I'll take Los Angeles's winter record for heat, thank you.

Posted by at 01:32 PM | Comments (0)
March 22, 2015
I am thankful to be back home after a short, but stressful, book trip to snowy New England. Of course I caught a cold, which was in full bloom the day I returned, and now I'm finally rested enough to blog about the trip. I had three unique experiences in the Boston area, which did acquire enough new snow to reach the record during my visit. Here's the first:
I was fortunate to stay with cousins in Lexington, delightful people who live in a large 100-year-old house and subscribe to three newspapers. Thus I was reading the Sunday NY Times opinion section over breakfast when I saw an article titled Childless by Choice that made me breifly forget to swallow my mouthful of eggs. It was written by author Michelle Huneven, who along with her husband, are members of my synagogue in Los Angeles. We've been friends with her husband for over 15 years, and with both of them since they married.
But the piece was a very intimate account of her journey to her "present contentment" that detailed painful aspects of her earlier years that, despite our friendship, I never knew. I realized that I was reading a very public article – it was the Sunday NY Times after all – yet I felt guilty as if I'd stumbled upon her diary and was reading it in stealth. And what should I say when I saw her husband, which I expected I would, at Shabbat minyan?
That was yesterday. I got up my nerve and told him I'd read the article and was impressed by both her honesty and courage. I asked how he felt about having such typically private details exposed so publically. Of course they'd discussed it, and he'd agreed to the wider exposure of a longer article she'd written for an earlier anthology. Still, they kept it somewhat quiet, neither one linking to it on their Facebook pages for example.
But most of my FB friends and fans who read my blog don't know them, and it was in the NY Times for Heaven's sake. And she has a new novel out that I'd like to help publicize. So if you're curious, here is the link
Posted by at 09:49 PM | Comments (0)
March 11, 2015
This Friday I'm catching another early plane ride, this time to Boston for the start of a mini [5-day] New England book tour. I've been watching the weather reports for the last month with trepidation as one snowstorm after another blasts the region. Now it looks like after a mild flirtation with Spring, cold weather is coming back to Boston just as I arrive in town, maybe even adding the small amount of snow they need to break the record for snowiest winter ever. Just what I need – schlepping cases of books through sleet and freezing rain.
For those who want to come hear me, here's where you can do it:
March 13 - 7:30 pm. Cong B'nai Shalom, 117 E Main St, Westborough MA 01581
March 15 - 9:30 am to 3:30 pm. Hadassah Northeast Women's Empowerment Conference Bentley Univ Conference Center, 175 Forest St, Waltham MA 02452.
March 16 - 7 pm. Temple Emanuel, 7 Haggetts Pond Rd, Andover MA 01810
March 17 - 11 am. Luncheon at Greater New Haven JCC, 360 Amity Rd, Woodbridge CT 06525.
Meanwhile the Los Angeles weather forecast also calls for extremes; only here it will be hot, with weekend highs in the 90's.

Posted by at 10:41 PM | Comments (2)
March 06, 2015
Almost a year ago my webmistress sent me a link to the beta version of my website, updated to include my soon-to-be-published novel Enchantress. Disappointingly, the description was neither compelling nor accurate. My dismay turned to horror when I learned that she'd merely copied it from Amazon.
Thus began my voyage of discovery into what makes a great Amazon description, and why it's so important, indeed vital, to have one. What I learned was not only surprising, but seemingly unknown to everyone I knew in the publishing biz: editors, agents, publicists, and of course, authors themselves. My publisher thought I should write about this for PW: Publisher's Weekly, a news magazine about the book business published continuously since 1872.
Thus my Penguin publicist submitted my article "The Most Important 130 Words and Author [or Publisher] can Write" for the Soapbox section of PW in June. We heard nothing until January, when just as I was considering where else to submit it, PW emailed that they'd be publishing it in a week and I should sign the attached contract.
Since I've hopefully made you curious, click here for the online version.

Posted by at 01:13 PM | Comments (0)
March 03, 2015
As a Driven Leaf by Milton Steinberg

My rating: 4 of 5 stars


I first read this novel before I studied Talmud, so I didn't realize it was based on actual Jewish texts. I was fascinated by Steinberg's descriptions of life in Roman Palestine, especially how the Jews lived, since there wasn't any other Jewish historical fiction from this time period. I wasn't so happy with the ending, never quite understanding why Elisha had to completely reject his religion when he couldn't reconcile it with Hellenism.

Later, when I studied the Gemara where his story appeared, I was even less happy. The Talmud is quite clear that Elisha ascends to Paradise with Rabbi Akiva and their 2 younger colleagues, and that all except Akiva are traumatized by the experience, Elisha so much that he becomes an apostate. Yet Steinberg leaves this crucial scene out of "As a Driven Leaf" so we never understand what set Elisha on his difficult path.



View all my reviews

Posted by at 09:55 PM | Comments (0)
March 01, 2015
Leonard Nimoy was buried today most likely at Hillside Cemetery, which is associated with Temple Israel of Hollywood, where Leonard and Susan Nimoy worshipped and where Susan's cousin, John Rosove, is the rabbi. After reviewing all the FB posts and newspaper articles memorializing the Star Trek star, I realize that I seem to be one of the rare female original fans of the SciFi TV show. Indeed, its short run from 1966-69 coincided with my prime teenage TV-watching years. Of course I was also one of the rare female physical science majors at UCLA, where my Star Trek appreciation gave me something in common with my male classmates.
It was years later when I realized that Nimoy was Jewish, one of the few [to me anyway] Jewish actors who wasn't also a comedian. It was a secret delight to learn that the hand signal accompanying his Vulcan greeting [Live Long and Prosper] was actually the Priestly Benediction from Torah, Numbers 6:23-27. Here's a NY Times video where Leonard Nimoy explains how he came up with the idea.
One of Nimoy's less known artistic endeavors was a series of photos of women and tefillin. Ten years ago, Moment Magazine interviewed him about this, where he states that Rashi's daughter wore tefillin. What the article doesn't mention is that he knew this because I spoke at Temple Israel way back then and his wife Susan bought a 'hot-off-the-presses' copy of my new historical novel, "Rashi's Daughters: Joheved". She asked me to inscribe it to him and I did so with the dedication "Live Long and Prosper," a memory that mortifies me still even today. If you want to read that Moment interview, here's the link.

Posted by at 08:30 PM | Comments (0)
February 20, 2015
As you may know, my husband and I were fortunate enough to spend Mardi Gras week in New Orleans this year, in a kosher B&B on St. Charles St merely a block away from Touro Synagogue. We admired their parade viewing stands but until now had no idea these were provided for families with disabled children. After spending days on the parade route, I can appreciate how difficult/impossible it would be for them to attend. What a wonderful gift to the community. Shabbat Shalom.
Here's more about Touro's Mardi Gras tradition

Posted by at 11:03 AM | Comments (0)
February 17, 2015
When I travel on book tours, I prefer home hospitality rather than staying in a hotel. Hotels are lonely, they require me to leave at a specific time, and they don't have kitchens stocked with all sorts of tasty snacks. The homes I stay at typically put me up in a guest bedroom that previously belonged to a child who has since left the nest. Often the child's books are still there.
On my recent book tour in Florida, I spent the night in my host's daughter's bedroom where I saw "Little House on the Prairie" on the bookshelf. I loved Laura Ingalls Wilder's semi-autobiographical historical novels when I was young, so I picked it up, started reading, and ended up finishing it. Reading one of my childhood favorites as an adult was so intriguing that I decided to re-read the entire "Little House" series. Amazingly, I think they stand up pretty well 50 years later.
However, I've recently learned that Wilder's stories are a lot more fiction than autobiography, and that there appears to be a political slant behind them. Here are a couple of articles for those of you who want to know more, from the Boston Globe and Slate.com

Posted by at 11:29 PM | Comments (2)
February 14, 2015
I celebrated my 65th birthday Wednesday by flying back home to LA. It was wonderful playing tourist in New Orleans during Carnival season. Our B&B hosts provided such a bountiful breakfast, plus snacks at other hours, that we only needed to eat one meal a day outside. So we indulged by eating at some truly marvelous restaurants recommended by the local Hadassah ladies, including: Superior Seafood, Commanders Palace, Le Petite Grocery, Acme Oyster Bar, Café du Monde, and Gumbo Shop. The saying goes that Jews in New Orleans have 3 sets of dishes: meat, milk, and treif.
Besides attending three days of Mardi Gras parades, we did a great deal of walking, so much that I only gained one pound while away. We admired the stately Garden District and St. Charles St. mansions, traipsed through the narrow streets of the French Quarter, took in the view as we strolled the Riverwalk along the mighty Mississippi, and followed several trails through Audubon Park. At various times, we passed by the Touro Synagogue, Temple Sinai, and the JCC. We also visited the Voodoo Museum, Old Mint, National Jazz Preservation Park, Pharmacy Museum, and Louisiana State Museum at the Cabildo. The latter had a special exhibit celebrating the Bicentennial of the Battle of New Orleans with lots of special items on loan from the Smithsonian and other historic collections. In case you don't remember the 1959 song, click on the video below.
Posted by at 04:26 PM | Comments (0)
February 12, 2015
In honor of my 65th birthday
Posted by at 06:17 PM | Comments (0)
February 09, 2015
After an exciting and grueling schedule of 20 speaking events in 17 days, my SE book trip is now complete. I'm now on vacation in lovely New Orleans, and have been since my husband flew in to join me on Friday. Our lovely kosher [dairy] B&B, Avenue Inn on St. Charles Ave, is right on the Uptown Mardis Gras parade route and we've been partying out there for the last 3 days, collecting an astonishing array of stuffed animals, plastic cups, light-up toys, and assorted other Mardis Gras chachkies. If you click on the link, you can see our room on the front on the far left.
Posted by at 06:49 AM | Comments (0)