May 25, 2015
Cocaine Blues by Kerry Greenwood

My rating: 4 of 5 stars


I confess that I discovered this series of mysteries after becoming a fan of the Australian TV series, so my review is colored by that. After slogging through Alan Turing: The Enigma Abridged , this short, fun bit of detective fluff was just what I needed. The dialogue is perfect for the times and characters, the clothes and cars are fabulous, and there's a nice feminist slant to the story. The only reason this is not 5-star is that the mystery itself seems to get short shrift. But then you can't everything in a book of less than 200 pages.

A good difference from the TV show is that there is no lengthy subplot dealing with Phryne's sister's disappearance; the sister died young but that's all we know about her. A disappointing difference is that there appears to be no romantic chemistry between Phryne and Detective Robinson here.

All in all, I look forward to reading the series as a delightful summer diversion. Those who enjoy the TV series will want to read these.



View all my reviews

Posted by at 02:50 PM | Comments (0)
May 24, 2015
Alan Turing: The Enigma by Andrew Hodges




This is another book I don't know how to rate. Turing's life story is fascinating and important, yet much of this book, perhaps the majority, consists of far too lengthy explanations of various mathematical and other scientific research Alan Turing was involved in. I studied quantum mechanics and advanced calculus in college, and thus knew what Andrew Hodges was talking about, yet I still found these sections tedious at best. I can't imagine how the average reader got through them; and with a total length of 700+ pages, this book was the very definition of TMI. Although what could one expect from a biography written by an Oxford mathematics professor and published by Princeton Univ Press?

On the other hand, chapters when Turing was actually working in Hut 8 on deciphering Enigma during WWII kept my interest throughout, as did the additional backstory of what the other British departments were doing, or not doing, to advance the war effort. I appreciated learning what the Americans were up to as well.

Unfortunately the book continued with a rambling, to me unnecessary, continuation of the various scientific endeavors Turing attempted after WWII. I almost gave up when I saw that the book continued for 100 pages more after Alan Turing's death. I'm glad I persevered, because those final pages were where the author detailed how the Communist scare of the early 1950's led to the demonization and persecution of homosexuals, especially in England. This section was certainly the book's finest hour, and definitely worth slogging through the earlier material. It almost makes me want to read his 1977 book, With Downcast Gays: Aspects of Homosexual Self-Oppression.

My recommendation: skim all the science stuff that doesn't interest you and concentrate on the rest of it.



View all my reviews

Posted by at 04:34 PM | Comments (0)
May 21, 2015
Iíve always been skeptical when people say things come in threeís, assuming that people donít tend to notice occurrences in other amounts, but I must admit that there appears to be a truth in that for me recently. Early last week Book Riot put me [for my Rashiís Daughters trilogy] in the same class as Michael Chabon, Geraldine Brooks, Chaim Potok, and Ayelet Waldman. That was followed a few days later by an article in the Jewish News of Britain that praised me as a novelist who changed the writerís life. I couldnít help but wonder when/if a third great piece of publicity would appear, at the same time chiding myself for being so superstitious.
Except here it is. In this weekís issue of LA's Jewish Journal, with a cover byline of "Reopening the Book," there's an interview with me that shares how I discovered Talmud and how my passion for this holy text inspired me to write two fiction series that focus on women and Talmud study. Itís not a review of my books, although it does highlight my latest, Enchantress, but rather a summation of my unexpected journey from clinical chemist at Kaiser Permanente to award-winning historical novelist.
This is how it begins: ďFrom a glass-enclosed cabinet in her Westchester home office, historical novelist Maggie Anton removed a small clay pot. Indicating the Hebrew characters inscribed on the pot in the same Aramaic as in the Talmud, she noted the rough outline of a demonic form inside the Ďincantation bowl.í She explained during an interview that from the fourth to sixth centuries, the same time that the Talmud was being created, the bowls, purchased in an antiquities store in Israel, were ubiquitous in Iraq ó once known as Babylonia ó the setting for Antonís latest novel, Enchantress.Ē
To read more, here is the LA JJ link

Posted by at 06:42 PM | Comments (0)
May 17, 2015
This has been quite a week for surprise online honors that I never would have known about without Talkwalker Alerts [does what Google Alerts is supposed to do]. First came the alert about Book Riot choosing Rashiís Daughters for their ďwhat to read for Jewish-American Heritage MonthĒ that I put in my previous post.
Then Friday afternoon I got a new alert that my name had appeared in the Jewish News of Britain. I clicked on the link to learn that blogger Chava Fleming of Newcastle [UK] Reform Shul put me in the same company as Elie Wiesel, Chaim Potok and the two Lawrences - Hoffman and Kushner - in her answer to the question: ďIf you were cast away on an island with just one Jewish text for company, which would you choose?Ē According to Ms. Fleming, I am one of a select group of four novelists who greatly changed her life.
Wow! I canít help but wonder what this week will bring.
Posted by at 10:17 PM | Comments (0)
May 12, 2015
I am amazed, and honored, that Book Riot choose to put me [for my Rashiís Daughters trilogy] in the same class as Michael Chabon, Geraldine Brooks, Chaim Potok, Philip Roth, Stephanie Feldman, and Ayelet Waldman in their ďWhat to Read during Jewish-American Heritage Month.Ē However I must admit that I never knew May was Jewish-American Heritage Month.

Posted by at 10:13 AM | Comments (0)
May 10, 2015
Finally back home from the East, just in time for Motherís Day. Scariest part was getting on the scale for the first time in 4 weeks, considering that Iíve had almost no control over my diet and minimal time to exercise while I was on book tour. Hallelujah! I somehow didnít gain any weight and may have even lost a pound.
On the subject of book tour food, especially at Jewish venues, itís a constant struggle to avoid fattening, high-carbohydrate, and oh so tempting fare. Every brunch serves bagels and cream cheese, along with an assortment of cookies and coffee cakes. Iím lucky to find fresh fruit too. My evening event hosts usually take me out to dinner first [we all know how fattening restaurant food can be] and my talks are followed by a dessert buffet. If Iím lucky Iím too busy selling/signing books afterwards to get to the desserts, yet sometimes my hostesses are Ďkindí enough to fix me a plate for later.
As for exercise, at least my recent trip had nice weather for walking outdoors [as opposed to March in Boston]. I love seeing all the unique architecture in my hostís neighborhood, so different from what we have in Los Angeles. Sometimes my hosts live in communities with exercise rooms in their clubhouse that I can use. Better if I can find a local park to walk in [thank you GPS and Google maps] or if Iím lucky enough that my host also likes to walk, sheíll take me to one of her favorites.
Which is how I got to visit Central Park in Manhattan, NY Botanical Gardens in the Bronx, Saxon Woods Park in Scarsdale, Colonial Park and Six Mile Run Reservation near Franklin Tp in NJ, Caumsett State Park at Lloyd Harbor in Long Island, and walk the refurbished Long Beach Boardwalk.

Posted by at 02:41 PM | Comments (0)
May 04, 2015
My big fat NY/NJ book tour is winding down. In the last 3 weeks Iíve spoken at 28 Jewish venues, and I have 4 more to go before flying back to LA on Thursday. It has been a lot of driving and schlepping between such diverse cities as Briarcliff Manor in Westchester Co, Stony Brook in east Long Island, Penn Valley PA, plus Woodcliff Lake and Monroe Tp in NJ. But Iíve met many wonderful women and stayed with some delightful hosts, including cousins in NJ.
Iíve seen Spring unfold in the East, as trees & bushes that were barren when I arrived have slowly blossomed in an array of colors and are now turning green. Iíve enlightened [and entertained] at least a thousand people by my talks about ancient Jewish magic, how the Talmud was created, and the prominent role of Jewish sorceresses in 4th-century Babylonia. Iíve found many new fans, including a few groupies who have attended more than one of my programs.
It has been a grueling, yet ultimately successful, trip Ė the end of six months of promoting ENCHANTRESS where I have done 127 events in 17 states. I am so looking forward to going home to see my husband [and grandkids] again.

Posted by at 09:45 AM | Comments (0)
May 01, 2015
One of the perks of staying in peopleís homes when I travel on book tour is checking out their bookshelves. Rabbiís houses are usually my favorites, but recently I got a very pleasant surprise when I discovered a copy of Neil Patrick Harrisí Choose Your Own Autobiography in the guest room I was to occupy. Luckily I had only the one program that day, with nothing scheduled until the next evening, potentially leaving me with sufficient time to read it. I did manage to finish it, but only by sacrificing a few hours of sleep.
But it was worth it. I adored the book, but then I'm a huge Neil Patrick Harris fan and I loved reading "Choose Your Own Adventure" stories with my children in the 1980's. It is a clever, and fun, way to tell what is really just another celebrity story. NPH has both a unique voice and a unique concept. I advise readers to not miss a single page, even/especially those that don't have any pages leading to them. Thankfully I read the hardback because I cannot begin to imagine how this could work on an e-reader or as an audio version. You really need to be able to turn to specific pages and jump around between them.

Posted by at 02:44 PM | Comments (0)
April 25, 2015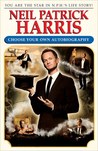 Neil Patrick Harris: Choose Your Own Autobiography by Neil Patrick Harris

My rating: 5 of 5 stars


I adored this book, but then I'm a huge Neil Patrick Harris fan and I loved reading "Choose Your Own Adventure" stories with my children in the 1980's. A very clever, and fun, way to tell what is really just another celebrity story. NPH has both a unique voice and a unique concept. I advise readers to not miss a single page, even/especially those that don't have any pages that lead to them.

I read the hardback and for the life of me, I can't image how this could work on an e-reader or as an audio version. You really need to be able to turn to specific pages and jump around between them.



View all my reviews

Posted by at 05:54 PM | Comments (0)
April 18, 2015
Played the local on this gorgeous spring day in Manhattan. Under bright blue skies, with temps heading up to nearly 80 degrees, I passed on seeing a Broadway show in favor of walking around Museum Mile and picnicking in Central Park. Started out with full breakfast of scrambled eggs, turkey bacon, Belgium waffles, and great coffee at the New Amity Restaurant, an old-time dinner on Madison Ave at 84th.
Then on to the Neue Galerie to see the Klimt exhibit. The place opened at 11 am, and when I got there at 10:30, the line of people waiting to get in was around the corner. But seeing Woman in Gold close-up was absolutely worth it, for Iíd never realized how 3-dimensional the painting is, how much texture went into various squares, eyes, and other design elements on her dress.
Next to the Jewish Museum, free on Shabbat, to see their reproductions of the Dura Europos Synagogue frescoes, as well as other exhibits, followed by a picnic lunch in Central Park. Grand finale was at the New York Historical Society Museum, where I saw an excellent and informative exhibit on Lincoln and the Jews

Posted by at 07:24 PM | Comments (1)
April 12, 2015
I am getting all those last minute chores taken care of before my 6 am flight to JFK tomorrow morning. For those in the vicinity of NYC [i.e. between New City NY and Bensalem PA], next week starts the mother of all book tours, 30 events in just over 3 weeks with the last one right before Motherís Day. Come hear me speak about Talmudic Rabbis and Jewish Sorceresses Ė Strange Bedfellows. Check out the schedule below and see which program is closest to you. See my Website Schedule for links.
April 14 - noon lunch & learn. Cong Rodeph Shalom, 7 W 83rd St, New York, NY 10024
April 14 - 7 pm. Temple Emanu-El Skirball Center, One East 65th Street | New York, NY 10065
April 15 - Sisterhood luncheon. JCC of Harrison, 130 Union Ave, Harrison, NY 10528
April 15 - 7 pm. New City Jewish Center, 47 Old Schoolhouse Rd, New City, NY 109565
April 16 - 7:30 pm. Westchester Reform Temple Sisterhood. 255 Mamaroneck Rd, Scarsdale, NY 10583
April 17 - 6 pm. Shabbat Dinner. Manhattan JCC. 334 Amsterdam Ave, New York, NY 10023
April 19 - all day. No New Jersey region Hadassah education day. JCC Metro West, 760 Northfield Ave, West Orange, NJ 07052
April 19 - 7pm. Sisterhood Temple Beth Sholom, Roslyn NY
April 20 - lunch. Long Beach Hadassah. Lido Beach Synagogue, One Fairway Road (corner Lido Blvd), Lido Beach, NY 11561.
April 20 - 8 pm. East Meadow Jewish Center, 1400 Prospect Ave, East Meadow, NY 11554
April 21 - 7:30 pm. Beth El Synagogue, 1324 North Ave, New Rochelle, NY 10804
April 22 - 7 pm. Westchester Jewish Center, 175 Rockland Ave, Mamaroneck, NY 10543
April 23 - Sisterhood lunch. Cong Emanu-El, 2125 Westchester Ave East, Rye, NY 10580
April 23 - 7 pm. Tobay Hadassah. Midway Jewish Center, 330 S Oyster Bay Rd, Syosset, NY
April 24 - 25. Shabbat at Israel Center for Conservative Judaism, 167-11 73rd Avenue Fresh Meadows, NY 11366
April 26 - 10 am. Temple Beth Emeth, 52 Mt Sinai Ave, Mt Sinai, NY 11766
April 26 - 2 pm. Temple Isaiah, 1 Chelsea Pl, Great Neck, NY 11021
April 26 - 7 pm. Temple Beth Ahm. 550 Lloyd Road, Aberdeen NJ
April 27 - lunch. Regency Hadassah. Regency Clubhouse, 530 Buckelew Ave, Monroe Township, NJ 08831
April 27 - 8 pm. Har Zion Temple, 1500 Hagys Ford Rd, Penn Valley, PA 19072
April 28 - 1 pm. Renaissance Hadassah luncheon. Clubhouse, Renaissance Drive off Route 571, Manchester, New Jersey 08759 April 28 - 7:30 pm. Palisades JCC, 411 E Clinton Ave, Tenafly, NJ 07670
April 29 - 7 pm. Sons of Israel Sisterhood, 1666 Pleasantville Rd, Briarcliff Manor, NY 10510
April 30 - 7 pm. Temple Emanuel, 87 Overlook Dr, Woodcliff Lake, NJ 07677
May 3 - 10 am. Greenbriar Yiddish Club, Greenbriar @ Whittingham Ballroom, Monroe Township, NJ 08831
May 3 - 7 pm. Cong Tifereth Israel, 2909 Bristol Rd, Bensalem, PA 19020
May 4 - 7:30 pm. Temple Beth El, 1489 Hamilton St, Somerset, NJ 08873
May 5 - brunch. Village Grande Hadassah. Clubhouse at 100 Grande Blvd, W Windsor NJ 08550, between Old Trenton and Village Roads. Contact Joyce Cohen, H:609-371-3469, c:609-578-7276
May 5 - 7:30 pm. Stonebridge Hadassah. Senior Center, 12 Hasley Road, Monroe Tp, NJ., West Windsor NJ 08550
May 6 - 10 am. Cong Ahavat Olam, 106 Windeler Rd, Howell, NJ 07731
May 6 - 7:30 pm. Oheb Shalom Miriam Sisterhood, 170 Scotland Rd, South Orange, NJ 07079

Posted by at 09:34 AM | Comments (0)
April 07, 2015
I must congratulate the folks at Bnai Shalom of Westborough MA on their excellent new video, a Passover parody called All About Those Plagues based on All About the Bass. I am so tired of these all-male Orthodox groups having a near-monopoly on Jewish holiday videos now that Fountainheads don't seem to be making them any more. This video is not only professionally done, but features a wide diversity of ages, genders, races, and likely even some sexual orientations. That's what Judaism is about [and maybe some plagues too].
In interest of full disclosure, I admit that I spoke at Bnai Shalom in March, almost exactly while they were making this video [how I wish I could have participated too]. They are lovely people and Iím so proud of them for making this inclusive Reform Judaism video.
Posted by at 12:58 PM | Comments (0)