July 29, 2014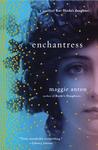 Enchantress: A Novel of Rav Hisda's Daughter by Maggie Anton

My rating: 5 of 5 stars


Personally, I think this is the best novel I've written. My editor at Penguin did a fantastic job of tightening the story, removing unnecessary exposition, and distributing the backstory from Apprentice: A Novel of Love, the Talmud, and Sorcery into many scenes instead of a few big information dumps.

Imagine fourth-century Babylonia – land of jinni and flying carpets, where the very word "magic" originated. But this is also where the Talmud was created, and indeed, slipped in among its countless legal arguments are fantastic tales of demons and the Evil Eye, and of enchantresses and rabbis whose spells protected people from them.

There are fewer stories of learned women, not surprising in a text that names more demons than women. One curious piece of Gemara has Rav Hisda's daughter sitting in her father's classroom when he suddenly calls up his two best students and asks her, "Who do you want to marry?" Astonishingly, she replies, "Both of them," and more astonishingly, she is considered a prophet because that is what ultimately happens. She does marry both of them … sequentially.

This is one of many rabbinic texts I wove into Enchantress, my novel about this audacious girl who yearns to become a sorceress, an esteemed profession for women in her community. But she is caught between memories of her first husband Rami and her increasing passion for Rava, the man she once blamed for Rami's untimely death. Eventually though, our heroine finds her place among the most powerful magic practitioners, along with Rava, her second husband.





Posted by at 10:32 AM | Comments (0)
July 27, 2014
Today, 29th of Tammuz on the Jewish calendar, is the 909th yartzeit of great medieval Jewish scholar Rabbi Solomon ben Isaac, better known as Rashi. Those who have studied Torah or Talmud, or seen a copy of a page of these in Hebrew, may have noticed a bit of squiggly characters on the side that sort of looks like Hebrew but not completely. This is Rashi script, which was designed by an Italian printer to be used in the first Hebrew book produced by printing press – Rashi's commentary on the Torah.
You can see an actual page of that book in Brooklyn.

Posted by at 04:13 PM | Comments (0)
July 24, 2014
You'll be surprised and impressed at how empowered Jewish women were in medieval Ashkenaz 900 years ago. In some ways even more advanced than today.
In honor of Rashi's 909th yartzeit, check out the article I wrote on the subject for My Jewish Learning's JOFA blog .
Posted by at 02:35 PM | Comments (0)
July 18, 2014
For those in Library Thing, now is your chance to get a sneak peek at my upcoming novel ENCHANTRESS, pub date Sept 2. Sign up before July 28 to be an Early Reviewer and you could be among the 15 lucky folks to receive a free copy. Click this link to see how.

Posted by at 11:46 AM | Comments (0)
July 17, 2014
And All Your Children Shall Be Learned by Shoshana Zolty

My rating: 5 of 5 stars


I read this book almost fifteen years ago as part of my research for Rashi's Daughters: Joheved. There's an entire section titled "Women and the House of Rashi." The author has done a great job of documenting the long history of Jewish women and Torah study. The thousands of footnotes, a 16-page bibliography, and an extensive index make this the go-to reference for those interested in the subject. I cannot recommend this book highly enough, although it is definitely a dense read.

Maggie Anton



View all my reviews

Posted by at 02:15 PM | Comments (0)
July 16, 2014
The Seven Daughters of Eve: The Science That Reveals Our Genetic Ancestry by Bryan Sykes

My rating: 3 of 5 stars


Like many reviewers I thought the second half was more interesting and engaging than the first, though I pretty much learned most of this info before [and more entertainingly] from Auel's The Clan of the Cave Bear novels. After 15 years working in a Biochemical Genetics lab, I already knew the science part that makes up the first half. Still, the author did a decent job of tying it all together for the general non-science reader. The subject of mitochondrial DNA, and how it illuminates our maternal ancestry, is certainly something more people should know about.



View all my reviews

Posted by at 10:27 AM | Comments (0)
July 15, 2014
According to Israeli National News, an Iranian cleric accuses Israel of using sorcery for espionage by employing jinni to undermine Iran. This is not as crazy as it looks [OK - it's almost as crazy]. From the research I did in writing ENCHANTRESS, I learned that some Talmudic rabbis regularly cast magic spells, consulted demons, and even used the Evil Eye to destroy their enemies. The Talmud teaches that King Solomon utilized magical beings, including demons and jinni, to build the Holy Temple. Up through the Middle Ages Jews were viewed as experts in medicine and sorcery, which in those days were pretty much the same. Obviously that legacy continues today.

Posted by at 10:52 AM | Comments (0)
July 11, 2014
Four months after it apparently happened, I got an email from FB saying that everyone's email address will return to the one they wanted it to be in the first place. Yes, I'm one of the few who actually changed my maggieanton@facebook.com email to my original author@rashisdaughters.com address. But most of my FB friends never did, or never noticed.
I still recall that unannounced and unanticipated change with despair. I was just about to email all my 2K+ FB friends about Rav Hisda's Daughter coming out when it happened and ruined my plans. If I'd had even a few days warning I could have tried to harvest those 'real' email addresses. I wonder what will happen if I try to send a group email about Enchantress through FB now?
To learn more about Facebook's new/old email policy see this link .

Posted by at 11:57 AM | Comments (0)
July 09, 2014
In advance of ENCHANTRESS pub date, Plume books is doing a Goodreads giveaway of the prequel APPRENTICE. It only has 4 days to go, so click on this link right away to enter.
Please let your friends know, or enter yourself if you haven't read APPRENTICE yet. Get ready for a fantastic trip back to 4th-century Babylonia, the land where the very word "magic" originated.
Posted by at 10:39 AM | Comments (0)
July 07, 2014
I have noticed a debate in the various online historical fiction groups on the difference between a historical novel and a historical fantasy. The general belief is that anything set in our Earth's history, with real historical details as to politics (names of rulers), technology levels, clothing styles, no vampires etc. make something historical fiction, even though the characters didn't exist or there is no proof that the plotline really happened. But adding an element that could not happen in the real world - such as vampires, dragons, or sorcery - makes it fantasy.
But I don't think it's quite so clear cut. My upcoming novel Enchantress: A Novel of Rav Hisda's Daughter takes place in 4th-century Babylonia where "magic" was real. Everyone believed that illness was caused by demons or the Evil Eye, and cured/prevented by amulets and incantation bowls. My heroine is one of these healers, her methods would be considered magic today. Yet, all the spells I include are authentic, that is from archaeological evidence and ancient magic manuals.
So is my novel a historical fantasy or not? What about stories with dragons set in ancient China? What about historical novels about saints or Biblical figures who perform miracles? One person's miracle is another person's magic.

Posted by at 02:30 PM | Comments (0)
July 01, 2014
Some words of wisdom & consolation from Rabbi Lisa Edwards in these trying times; in this weeks LA Jewish Journal
Posted by at 08:09 PM | Comments (0)
June 29, 2014
The Immortal Life of Henrietta Lacks by Rebecca Skloot

My rating: 5 of 5 stars


It's been interesting reading this at the same time as The Seven Daughters of Eve: The Science That Reveals Our Genetic Ancestry. Both are nonfiction books that focus on genetics and the information scientists can get from people's cells. But Rebecca Skloot is an experienced science writer, while Bryan Sykes is a scientist, and it shows in the less scintillating writing. Skloot delves into the medical science as well as the social science behind the story, delivering a scathing account of how blacks were/are treated by the white medical establishment as well as a fascinating story of how the HeLa cells were discovered and the myriad medical advances they made possible. She brings the family's trials and tribulations alive as we hear their own stories in their own words.



View all my reviews

Posted by at 09:54 AM | Comments (0)