May 02, 2016
It is now almost six weeks since Fifty Shades of Talmud came out and I left for vacation in the Galapagos Islands. In the meantime my book has been reviewed twice that I know of, at length by Amos Lassen in Boston's Jewish Advocate and on his blog, and briefly by Avishay Artsy on Jewniverse. I'll get to that review in my next post, along with his impressively researched interview with me in the Los Angeles Jewish Journal
Here's an excerpt from Lassen's review: "Anton takes us on a tour of sexuality within the Talmud as we see that Jewish tradition is progressive in many respects and is even racier than we could have imagined. While I did not really know about this aspect of the Talmud (although I had heard a few things), I did know that Maggie Anton is a terrific writer and I have read all of her books and … I had great confidence that she could make reading the Talmud fascinating, which she does with her own knowledge of Jewish history and a bit of humor … It is as if Anton has awakened the Talmud that has been sleeping for a long time … Just look at it from this perspective—-the first commandment we meet in the Torah is to be fruitful and multiply and as far as I know there is only one way to do that. It is a man's obligation to have sex with his spouse yet there are times when this is not allowed. The original text has no specification as to how, when or where to be fruitful…. That came later and along with that came the Talmudic rabbis who not only filled in the blanks, they created them."
If you have a subscription to the Jewish Advocate you can read the entire review here and if not, it's on his blog

Posted by at 11:06 PM | Comments (0)
April 25, 2016
Why was Friday night, the first night of Passover, different from all other nights? Because Jory Prum, our daughter's first boyfriend and first love, died that night from injuries due to a motorcycle accident. He and Emily met at a Jewish camp when she started high school and were together through her first year of college. He was a music major at Cal Arts and we were quite fond of him. Emily kept in touch with him, and after the advent of Facebook, Jory and I followed our adventures as I became a success in the book biz and he in the music and sound biz, with Jory eventually winning an Academy Award. To see his many accomplishments, visit his Wikipedia page.
Now it's sad when someone of my parents' generation dies in their 80's or 90's, and it gets scary when one my baby boomer friends or colleagues dies. But what a tragic loss when it's one of my children's friends, and Jory was the first of them. After knowing him for over half his short life, I can't believe he is gone. My belly still feels like there's a rock inside there.
Unlike the Talmudic rabbis, I have little confidence in the existence of a World-to-Come. I see all these posts on Jory's Facebook page with pictures of heavenly clouds and beautiful landscapes from folks who believe he's at peace in some better place, but I am not comforted. I expect the pain to lessen eventually, but right now he will be dearly missed and mourned.

Posted by at 11:36 AM | Comments (0)
April 22, 2016
The Galton Case by Ross Macdonald

My rating: 4 of 5 stars


As a novelist myself I always appreciate excellent plotting, and this is especially important in a murder mystery. I foundThe Galton Case to have one of the finest, most carefully crafted plots I've read. And I'm a long-time mystery fan. I actually went back and reread the book to see how Ross Macdonald set up all the clues and red herrings, how he slipped in crucial facts so nonchalantly that they were easy to miss the first time around. Yet at the end, all the puzzle pieces are there and fit together perfectly.

I only gave 4 stars because of what I thought was gratuitous violence, although apparently that's a hallmark of these kinds of hard-boiled noir detective stories. One pleasant surprise for this genre was that the female characters were well-drawn real people and not mere stereotypes.



View all my reviews

Posted by at 11:27 AM | Comments (0)
April 21, 2016
[4-3-16] This Sunday would be our last full day, and as with our first itinerary, they'd saved the best for last – Floreana. First we stopped at Post Office Bay, a nice beach where whaling ships used to drop off letters addressed to home in an old barrel, and pick up letters for a place they were going. The tradition supposedly continues today with postcards, although it seems silly in this day of airmail. Anyway we put one addressed to our daughter in the barrel, but I don't expect her to receive it anytime soon.
Then it was on to some fantastic snorkeling at Devil's Crown, a volcanic crater eroded down so we, and lots of sealife, are able to access the coral reef in the center. The water was incredibly clear and filled with sea lions and large schools of fish. Some saw sharks and rays, but I was preoccupied with fighting the strong ocean currents rushing through the crown and avoiding the sea lions.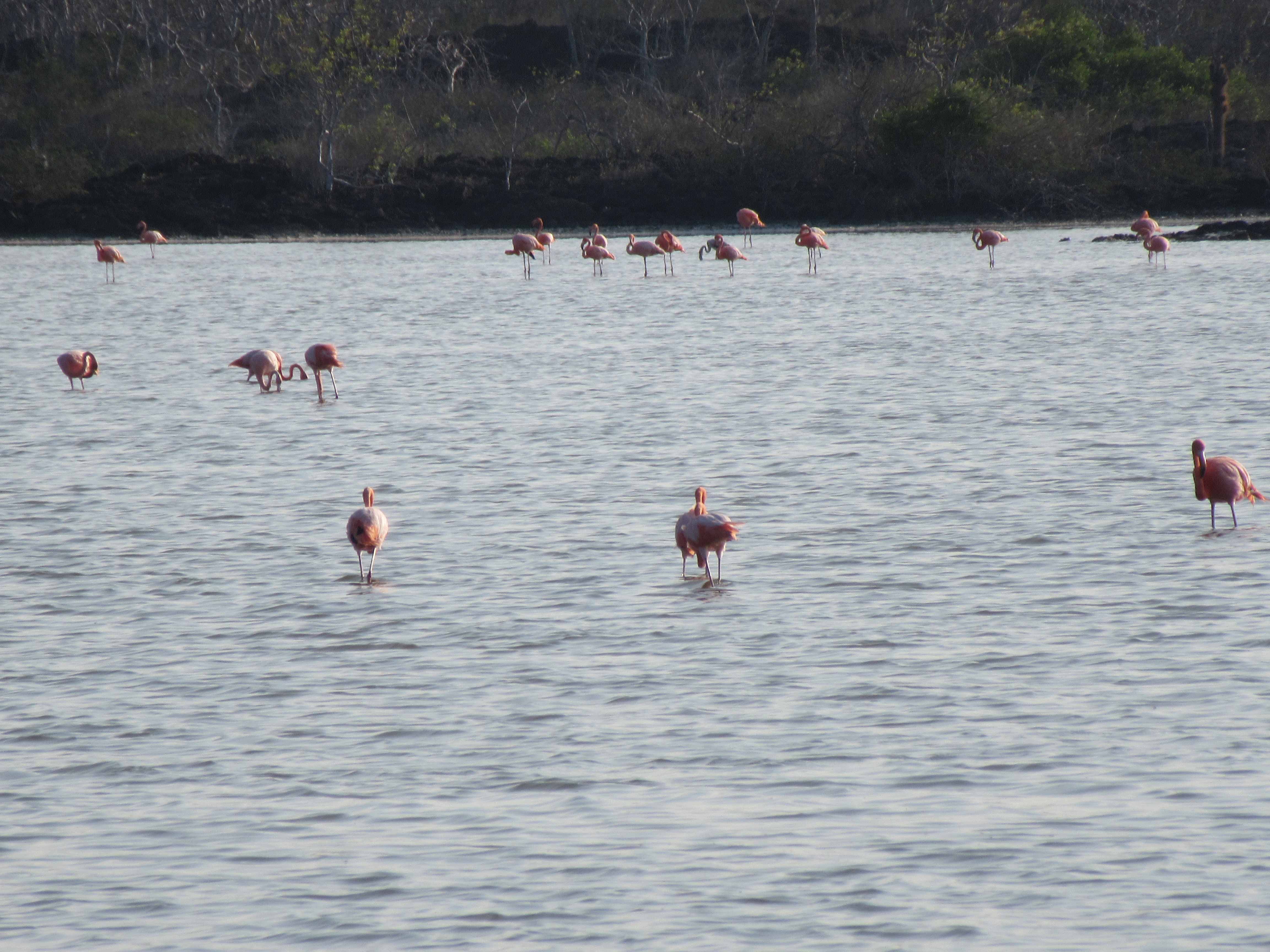 Late that afternoon we concluded our cruise at Cormorant Pt, where we took a short hike past a lagoon that was home to at least fifty pink flamingos. I'd seen flamingos at the zoo, but to view them in real life, along with their fluffy white chicks, was incredible. Soon we arrived at a so-called "Green Beach," which was really more olive-khaki colored. Whatever its color, the broad beach was lovely and the sand beyond the high-tide level was pockmarked with sea turtle nests. The air above was filled with soaring frigates waiting for sunset, because once darkness set in turtle hatchlings would attempt the hazardous passage from nest to ocean, providing a meal for the birds.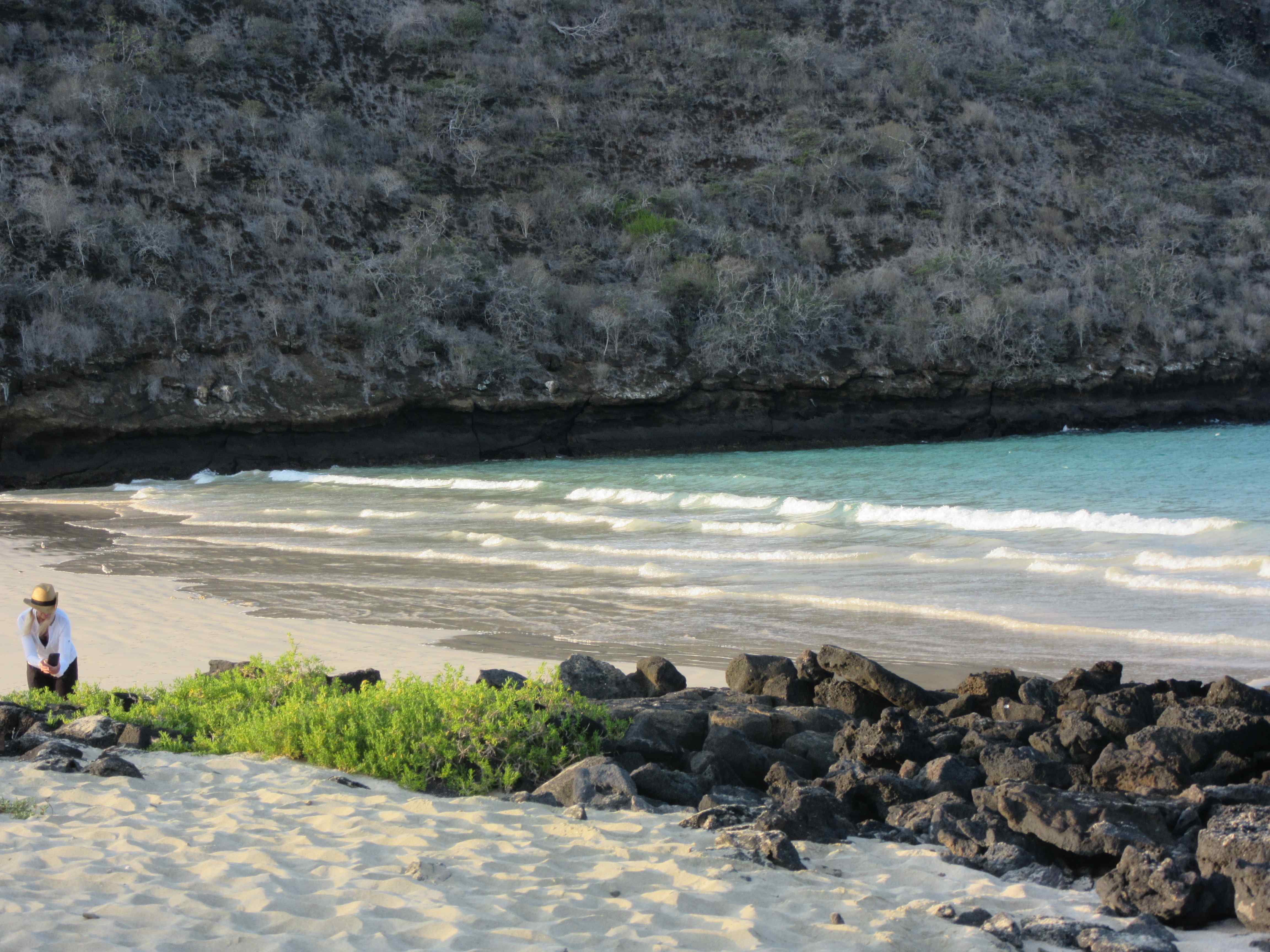 A few great herons also stood guard over the nests, alert for any movement in the sand. Just as it was time to leave, to our dismayed amazement, we witnessed a heron thrust its long beak into a sandy nest and come up with a newly hatched baby turtle. For almost a minute the tiny creature flopped around trying to get loose, but the heron held on tight and eventually swallowed the poor thing whole. For those who want to share the experience, I posted the video on YouTube
Posted by at 09:28 AM | Comments (0)
April 19, 2016
[Saturday, 4-2-16] For the rest of the passengers, the schedule for Santa Cruz was the same that I experienced on our eastern itinerary: bike ride, sugar cane factory, giant tortoise preserve, and free time in town. One of the big perks of back-to-back itineraries was the opportunity to visit other less frequently sites with our own naturalist. After consultation with the cruise director, we chose to hike in the forested highlands to Twin Craters [Los Gemelos], which are actually two huge collapsed lava tunnels filled with lush vegetation.
I wanted to see more giant tortoises, plus after checking in town we realized that the El Chato Tortoise Preserve had lower prices for t-shirts and other souvenirs, so we went there again, this time hoping to spend more time exploring the area than with the larger group previously. We were rewarded with an immediate tortoise sighting, a good-sized one attempting to drink out of a water trough next to the bathrooms.
Rather than go into town for the afternoon, our guide took us to Garrapatero, a gorgeous white sand beach surrounded by mangrove trees providing welcome shade. This being Saturday, there were families frolicking in the turquoise sea, and I couldn't resist walking along the water's edge, although I tried to keep my bandaged leg dry. There were a good number of shorebirds and even some marine iguanas. I wished we could have spent more time there, but we needed to catch the panaga back to the ship. We got to town with time to walk the main street, where we posed next to statues of an iguana and tortoise. These photo spots were so popular with tourists that we had to wait our turn.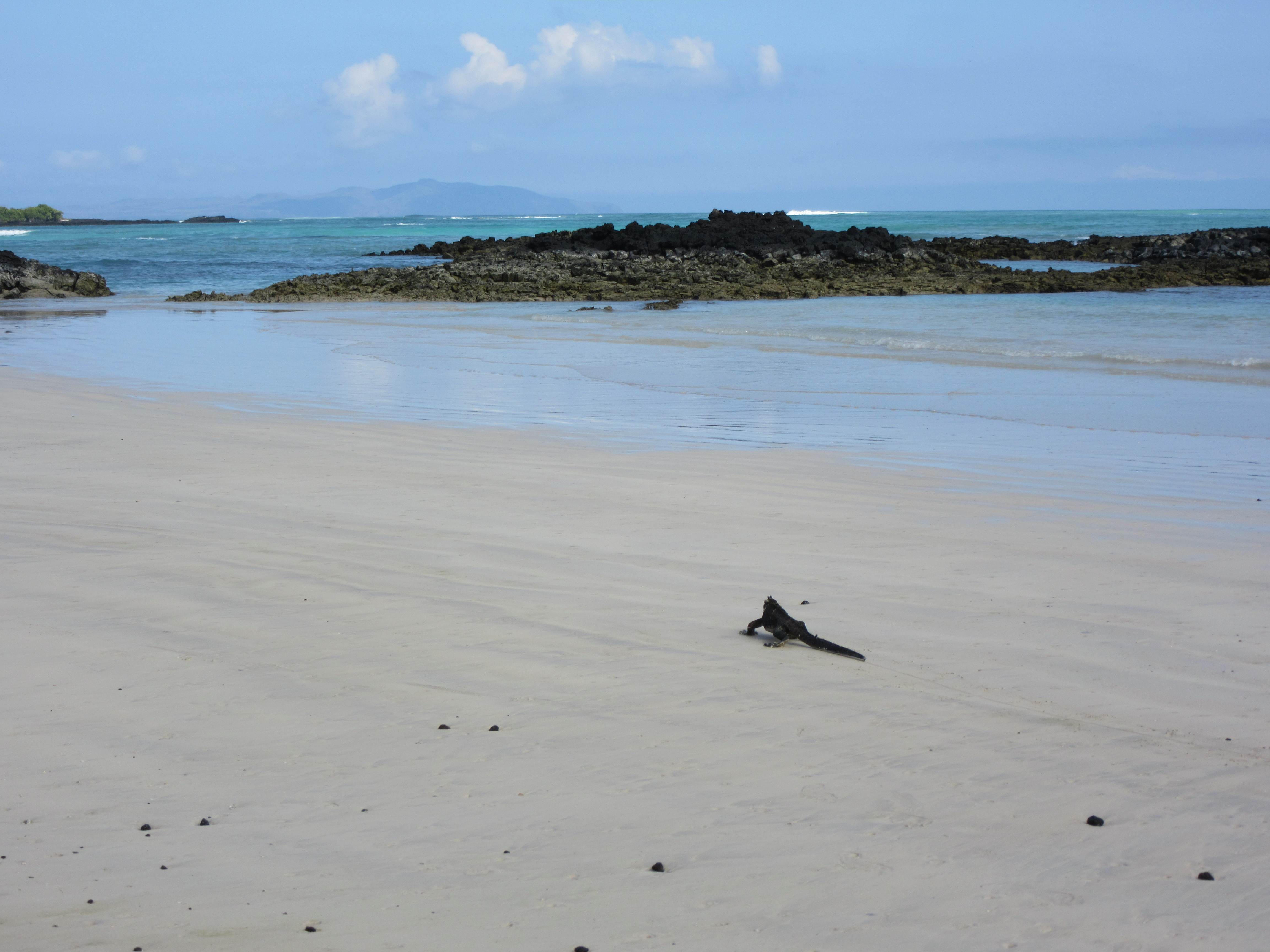 Posted by at 01:46 PM | Comments (0)
April 18, 2016
[4-1-16] [Friday, April 1] With no Internet, radio, TV, or even newspapers, I had lost track of the day and date. Apparently April Fools Day is not a Latin American tradition, for there was not even a mention of it, let alone any jokes. As a reward for taking a back-to-back two-itinerary trip, we received a complimentary bottle of wine with dinner. Only then did I realize that it was Friday night and that by luck we would be able to celebrate Shabbat with the traditional beverage. But I'm getting ahead of myself.
Earlier that Friday I experienced both the best and worst of expeditions, ironically with identical activities on Isabela. In the morning we took a panga ride along the coast looking for nesting birds, particularly the rare and elusive Galapagos penguin. But we were diverted when a pod of dolphins, even rarer in the area than penguins, appeared and swam alongside us for almost 20 minutes, some jumping almost entirely out of the water. Now delayed, we took a long, sweaty hike to the rim of a volcanic crater overlooking Lake Darwin, but the magnificent view was well worth it.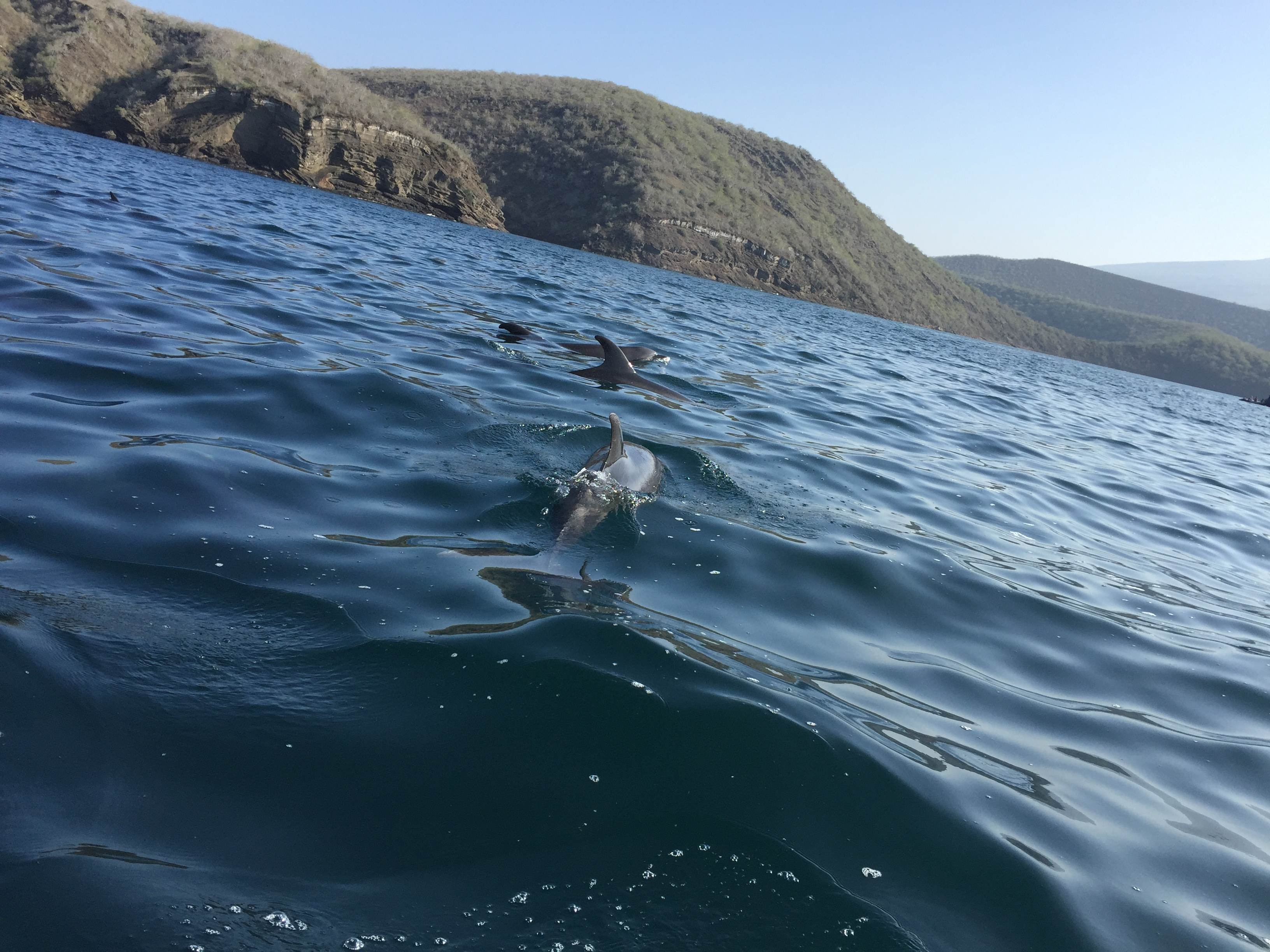 Finally it was time for deep-water snorkeling in Targus Cove, which I eagerly signed up for if only to remedy the heat. But this was the best ever. It was low tide and very clear, so we got to see the inhabitants of the rocky terrain close up. A myriad of colorful fish swam lazily beneath us, and at the bottom sat sea urchins and starfish totally different from any I'd seen in California. This was great enough, until I saw something brown swimming nearby out of the corner of my eye. I turned and prepared to swim away should it be a large sea lion, but it was a trio of penguins. In awe I let myself float as they approached, one so curious that it came right up to my mask and stared at me. We held each other's gaze for several seconds before it moved away, and the three penguins continued to swim alongside me and around me for what seemed like an eternity, although it was probably less than five minutes.
That afternoon was a debacle. Urbina Bay, normally so calm that its shallow beach is ideal for beginning snorkelers, was cursed with large waves breaking close to shore. I immediately gave up the idea of snorkeling since the water would surely be too rough and cloudy, and decided to bodysurf instead. I consider myself a strong swimmer and rather enjoyed the big waves, but many of my shipmates were tumbled around like in a washing machine and some flung dangerously close to the volcanic rocks. Eventually the waves became so forceful that it was nearly impossible to stand, so I sat down at the water's edge to watch the chaos. Parents pulled their protesting children out of the water and our guides struggled to help the adults, some quite heavy, who'd been knocked down.
I didn't realize that the more powerful waves were carrying rocks along with them until one crashed into my left shin and scraped off several inches of skin, leaving a bloody mess that our naturalist cleaned and bandaged the best she could. Many guests, mostly scared but including a few more injured than me, went back to the ship. I was well enough to take a hike into the interior, where those of us who persevered were thrilled to come upon a young giant tortoise, a species that is infrequently seen in the lowlands. Back on the ship, the doctor dressed my wound and told me not to swim the following day. Which was fine because that would be our day on Santa Cruz.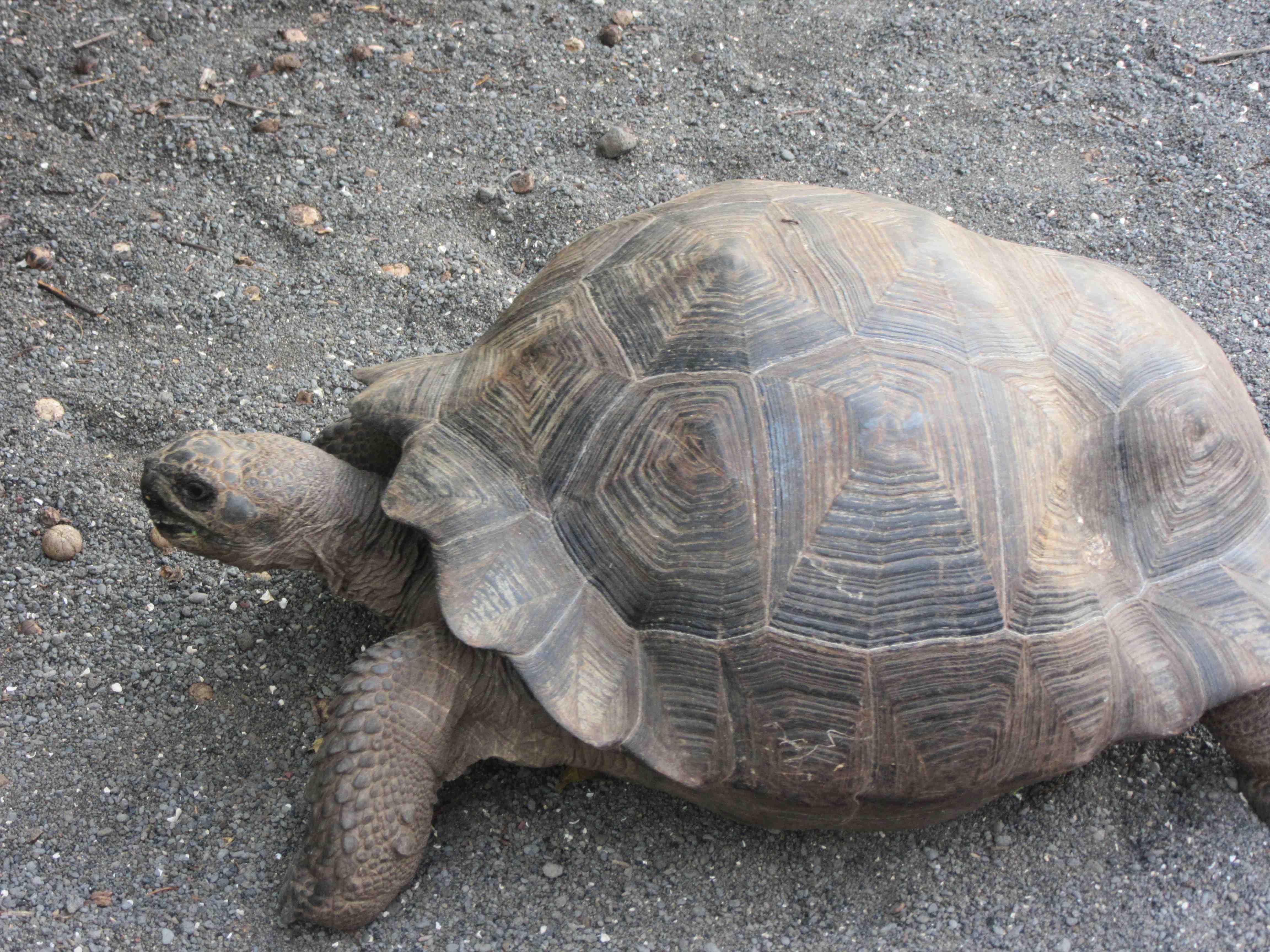 Posted by at 11:45 AM | Comments (0)
April 17, 2016
Good news - I finally got some photos to upload to my blog. Bad news - there's only room for 2 or 3 pix per post. Now on to Day 7.
[3-31-16] Thursday we arrived at the two youngest and most western islands, Isabela and Fernandina [yes, named after the Spanish royals who financed Columbus]. In the morning we went out on a panga ride along the cliffs of Punta Vicente Roca where flightless cormorants and other sea birds nest. Our naturalist guide explained the geology of the rock layers, where compacted volcanic ash met sedimentary rock uplifted from below. The highlight for me was a deep-water snorkel [from a boat rather than a beach] where we swam with green sea turtles and diving cormorants. The large turtles swam slowly and ignored the snorkelers, sometimes surfacing quite close to us humans hovering above.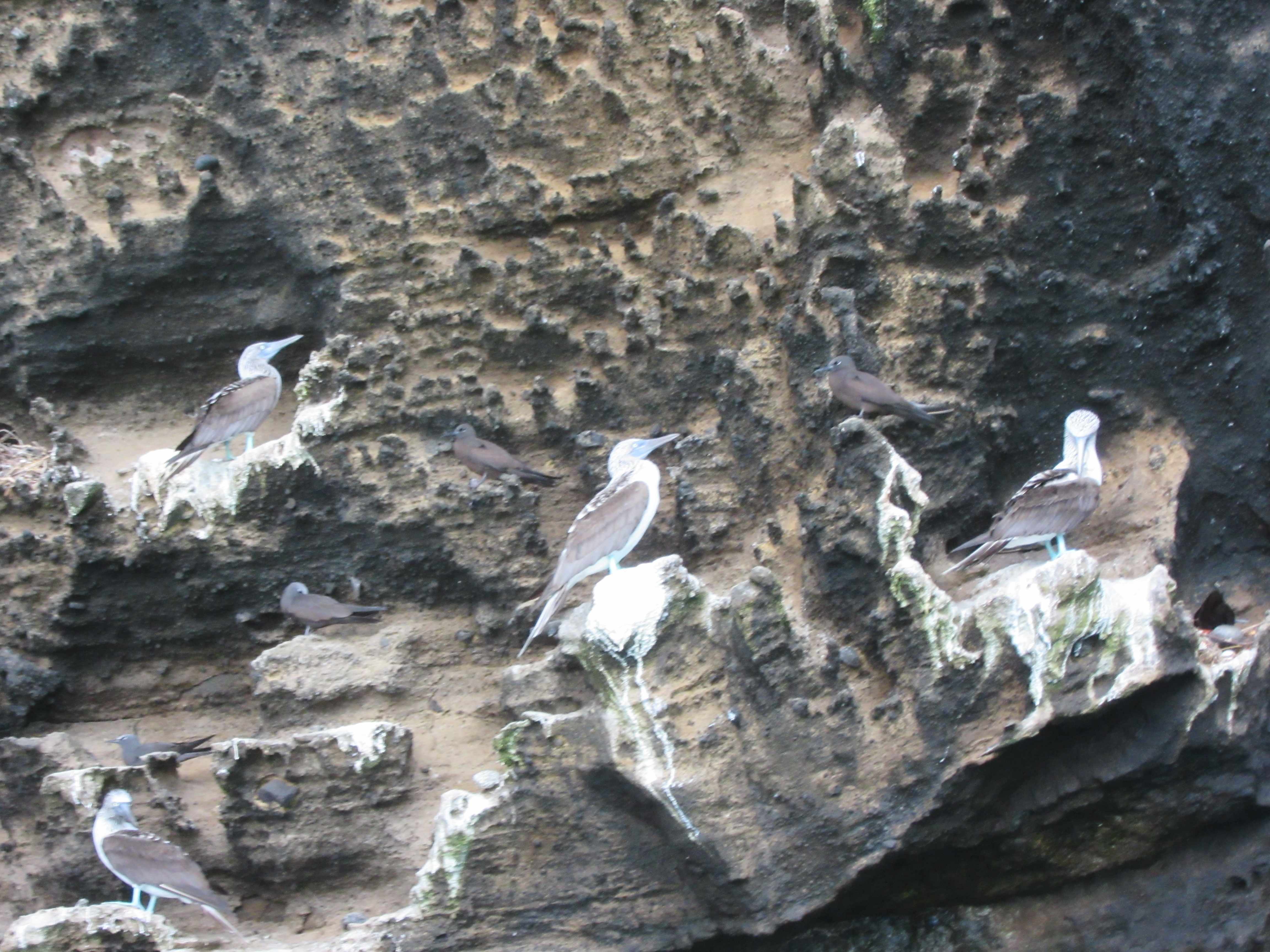 In the afternoon we anchored off Fernandina at Punta Espinoza for a hike that would take us over there kinds of lava: ropey, smooth, and ai-ai [too sharp and pointy to walk on barefoot]. Here we were immediately confronted with a large number of the black marine iguanas crawling over the volcanic rock and sometimes over each other. Since the reptiles are pretty much the same color as the ground, we had to be careful where we stepped. Also camouflaged were the young sea lions and a great number of crabs, but only the latter made any effort to get out of our way. It was such a challenging hike that several of our group stopped midway and waited until the rest of us returned.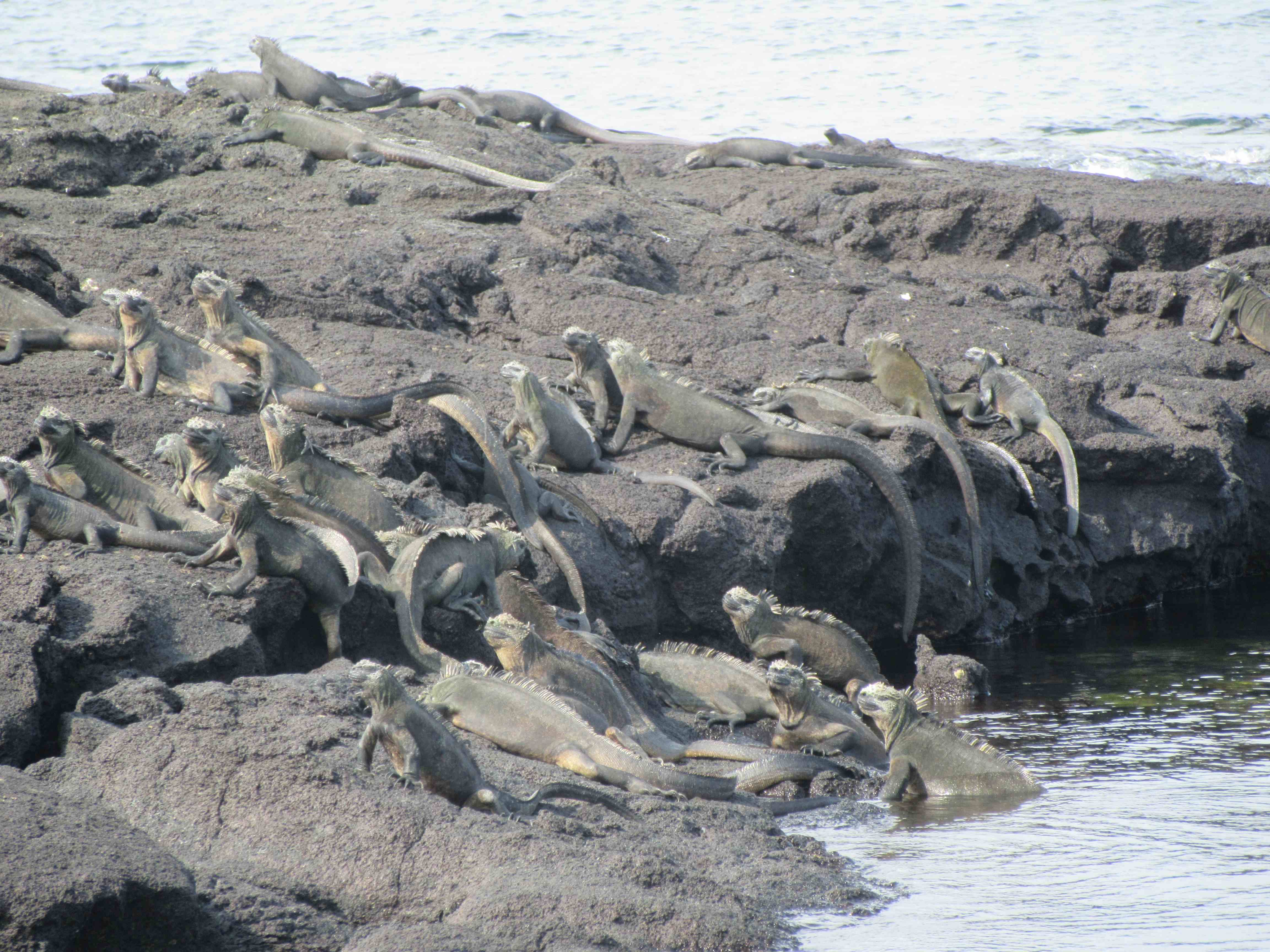 Speaking of groups, our eighty-plus passengers were carefully sorted into six contingents: Albatross, Boobie, Cormorant, Dolphin, Frigate, and Gull. Families were kept together, as were people who spoke the same language and were about the same age. Each group traveled in the same panga together and explored the venue with the same naturalist, and if all went well, the members bonded over the course of the cruise. We were a Cormorant on the eastern itinerary and a Boobie on the western, and while we became friendly with one vegetarian couple from Malaysia as a Cormorant, the two couples from Hong Kong and the family from Sweden mostly spoke their native languages amongst themselves. Our Bobbie colleagues, in contrast, were a jovial and enthusiastic bunch in their sixties who hailed from Canada, Australia, and England along with one other American couple.
Posted by at 08:04 PM | Comments (0)
[Wednesday, 3-30-16] All cruise ships in the Galapagos, even the 16-person catamarans, have their schedules strictly regulated by the Park Service to prevent too many people traipsing around anywhere at one time. The Santa Cruz II had a two-week circuit divided into three unique 5-day itineraries: western, eastern and northern routes. With so much traveling involved just to get there, we took a cruise that combined the eastern and western routes, but I was astonished to learn that we were the only passengers doing that.Thus Dave and I had a private excursion, with our own naturalist, while the rest of the passengers disembarked for the airport. Because it was only the three of us, we received permission to visit a small sheltered beach where the sea turtles were nesting. Not that we saw any, since they do their thing at night, but we did see the large nests as well as the trails in the sand where the mothers returned to the sea and smaller trails from the hatchlings. After strolling long enough to get warm, I took a nice swim in the clear water, which was a refreshing 76 degrees.
We were back on the ship, relaxing on the large covered patio on the top deck, when the new passengers arrived. To my surprise and pleasure, they were all English speakers. Thus we would get to know more of our fellow cruisers compared to the first journey. This time there was a large Jewish family group from Chicago with grandparents, three daughters and their husbands, and seven grandchildren [mostly girls]. Several other Jewish couples were on board as well.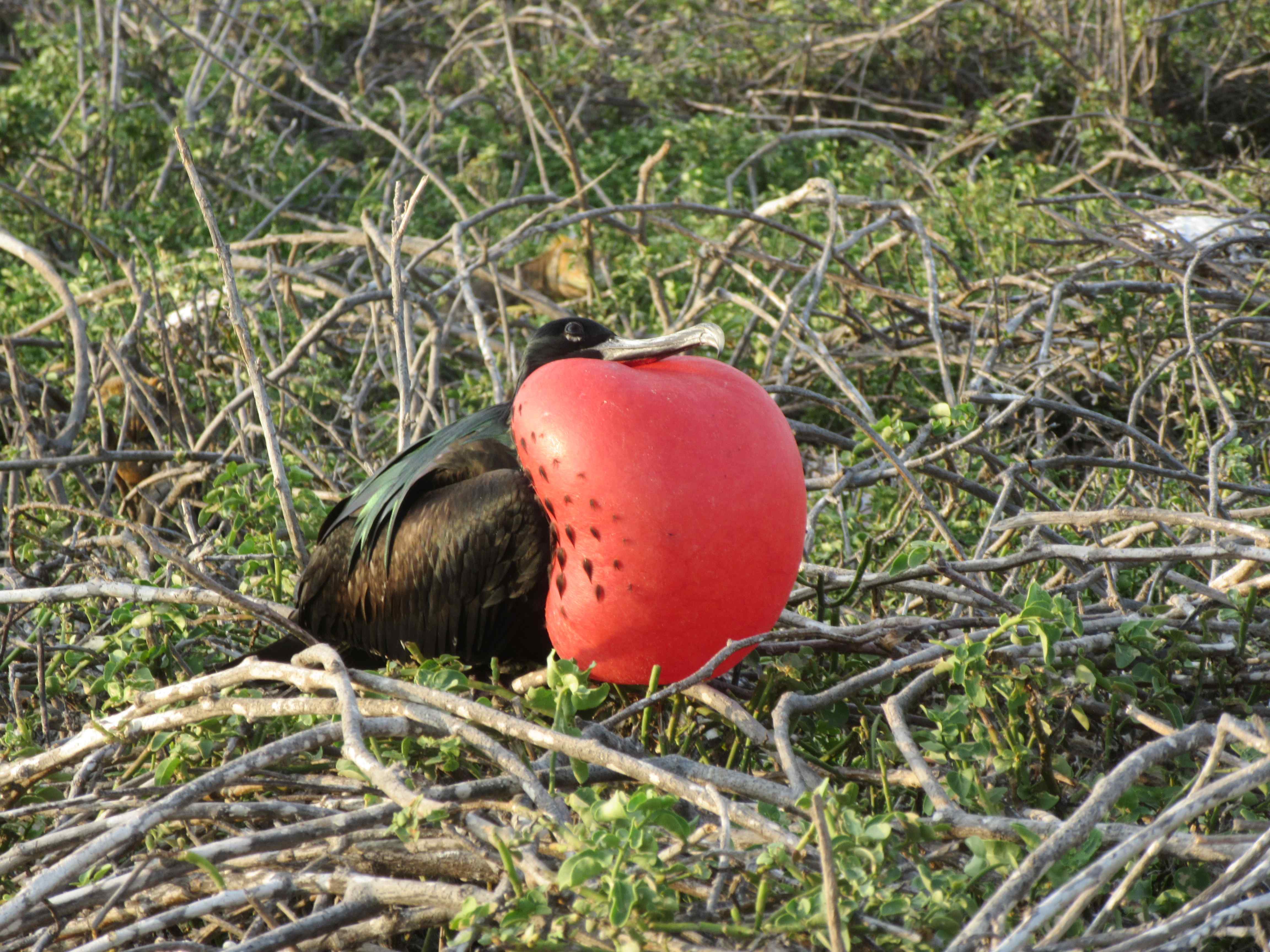 That afternoon we did a walk on North Seymour Island, nesting grounds of the famous blue-footed boobies and the bright red-chested frigate birds. We watched [and took photos] as each species did their courting dances and built their nests, plus there were many chicks and juveniles walking around as well. As always, there were sea lions lounging near the water's edge. We stayed on the island so late that we were rewarded with a glorious sunset.
Posted by at 09:39 AM | Comments (1)
April 14, 2016
O Jerusalem by Laurie R. King

My rating: 4 of 5 stars


This book, one in a series that pairs Jewish Mary Russell with a semi-retired Sherlock Holmes, is set in 1919 British Palestine, shortly after the Ottoman Empire was defeated in WW1 and England acquired their Middle East territory. Laurie R. King does a good job of capturing the atmosphere, scenery, and people's lives in that complex time and place. The mystery is pretty good too, with one exception [spoiler alert]: the book ends almost immediately after the murderer is revealed, but he is never confronted with his crime and nor do readers get any explanation of why he did it.



View all my reviews
Posted by at 07:54 PM | Comments (0)
April 13, 2016
Sorry, somehow I forgot to post our adventures on Day 4.
Monday, March 28, our ship dropped anchor in Pureto Ayora on Santa Cruz Island. Here Dave and I got our biggest dose of exercise when we bicycled up to a sugar cane farm in the highlands, 200 meters above sea level, where the weather was supposed to be cooler and rainy. But instead it was warm and steamy, so I had to walk up the steepest hill, where I was rewarded with time to appreciate the excellent view. We ended up at one of the few areas where the giant tortoises roam wild; most tourists visit the breeding center in town, which is more like a zoo. It was amazing to walk through this lush forest and suddenly you see one just sitting there in the shade.
More incredible, we saw a couple of them mating, or perhaps attempting to mate, as it was not at all clear if the male on top was facing the female's rear or her head. What a sight!
We finished the afternoon in the main town, the only place on Galapagos to find internet cafes and gift shops, but the goods for sale were all overpriced tourist crap and I couldn't use the internet because Facebook and my email accounts all require entering a code texted to my cell phone – which was back in Los Angeles.
Posted by at 11:11 PM | Comments (0)
April 10, 2016
[Tuesday, 3-29-16] According to usual weather patterns, we were traveling during the rainy season, but as yet we'd seen no rain. Thus we were able to stop at Punta Suarez on Espanola for our longest hike, which would take three hours because the trail was so rocky [making it too dangerous to attempt when wet]. Thus we were able to see a great many marine iguanas, including females digging nests, plus some pretty Galapagos doves and a Galapagos hawk, as well as a breeding colony of Nazca boobies where we observed close-up as the mothers fed the juveniles. What we did not get to see were the famous Waved Albatrosses. They usually start arriving in April, so we had hoped a few might be there already, but this being an El Nino year, the birds were delayed.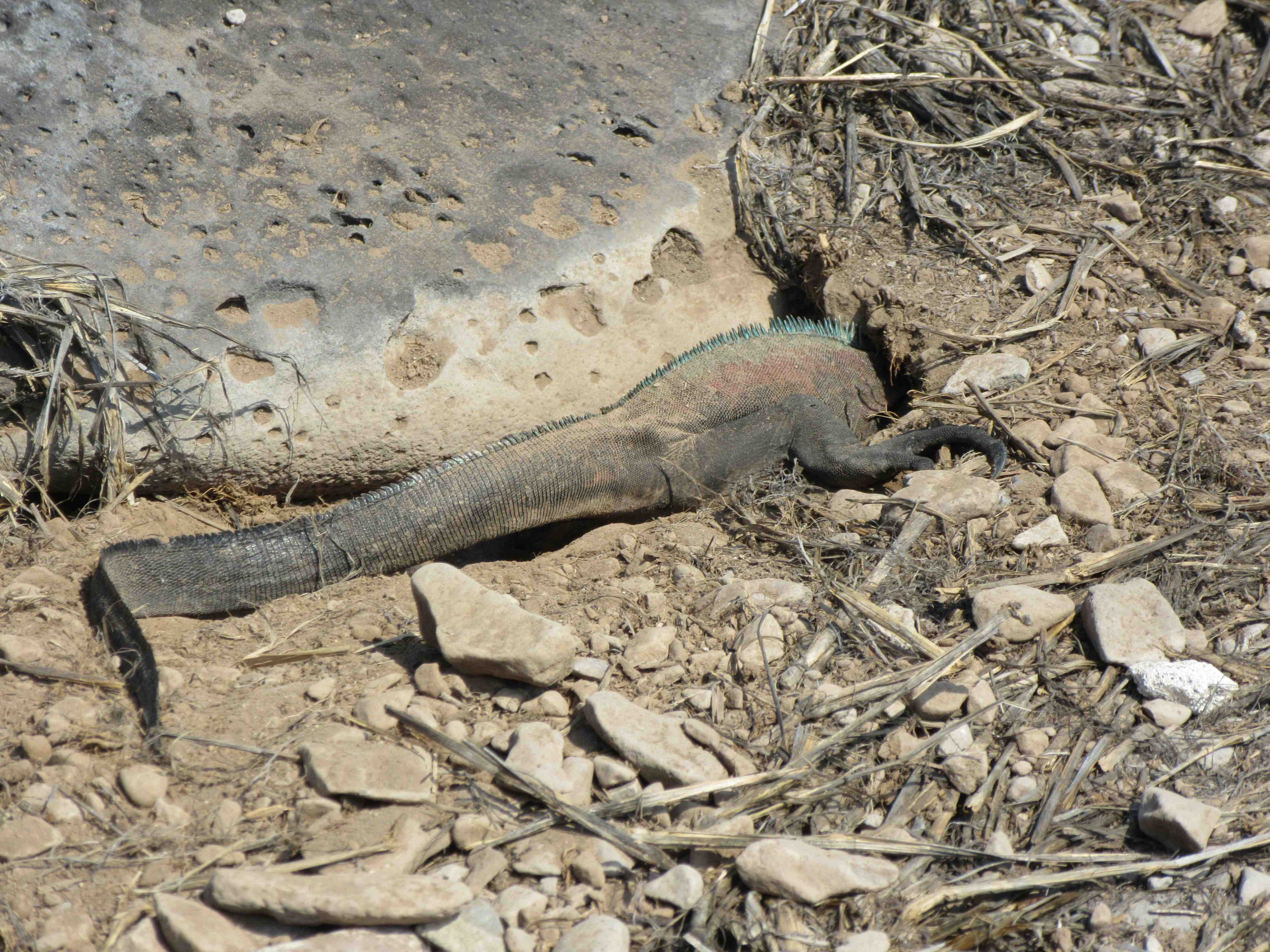 In the afternoon, we visited Gardner Bay, voted [I don't know by whom] one of the ten most beautiful beaches in the world. Indeed with its soft white coral sand, brilliant turquoise water, and a large rock to snorkel around, it was lovely. The beach was gently curved, and it took about twenty minutes to walk its length. I was lucky to spot a Galapagos hawk sitting in the sand eating whatever prey it had just caught. It completely ignored me as I came closer to take a photo. The only flaw was the sea lion colony, many of whom would waddle over and flop down right on top of people's towels and other belongings. Dave was trying to sketch, but kept having to move our stuff when a sea lion approached.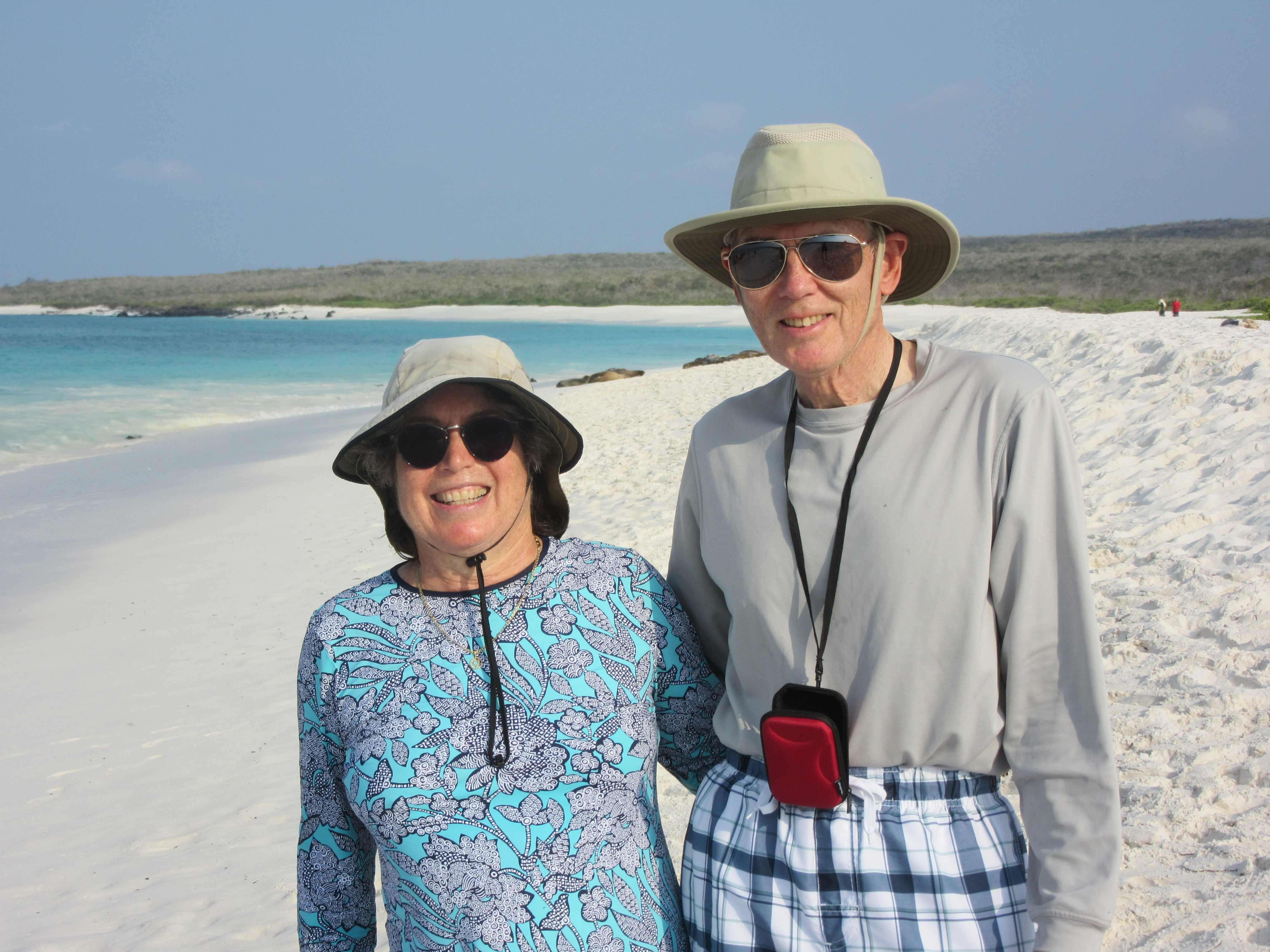 Posted by at 10:31 PM | Comments (0)
April 08, 2016
[3-27-16] Easter Sunday found us at Santa Fe, where we expect to encounter the indigenous, and elusive, land iguana that lives only on this small island. Because this is mating season, the males will be colored a bright yellow. The Galapagos are located at the equator, so sunrise and sunset are always around 6:30, and the two seasons depend on the ocean currents not the position of the earth around the sun. We are visiting at the end of the warm/rainy season [Dec-April]; the rest of the year is the cold/dry season. Warm and cold are relative, with warm being in the 80's and cold about 15 degrees lower.
To avoid being out at the hottest part of the day, our excursions start early in the morning and again late in the afternoon. No sleeping late here. Our group was one of the first on Santa Fe, so our short hike got us to see land iguanas while they were out foraging. They were certainly not illusive, and we even saw one up in a bush eating its foliage. It was odd how they made no effort to avoid us, and a few curious ones came closer. By the end of our hike, we were quite warm, so an hour of snorkeling was welcome since the ocean temperature was in the 70's. The water was calm and clear, allowing us to see a variety of colorful fish and a few corals. Most interesting were the juvenile sea lions that played and turning somersaults as they swam around us.
That afternoon, we took a hike on South Plaza where a different species of land iguana lives. Indeed they were so plentiful and unfazed by humans that we had to be careful not to step on them, as they couldn't be bothered to move off the trail as we approached. The males here were shades of orange as well as yellow and grow significantly larger than the greyish females. At one point we were treated to the X-rated sight of a male chasing and then mating with a female, but she was bigger than him [although not faster] and eventually pushed him off. A big pleasure for me was the vast carpet of sesuviam succulents whose vibrant colors ranged from chartreuse to gold to bright orange and red. Just gorgeous.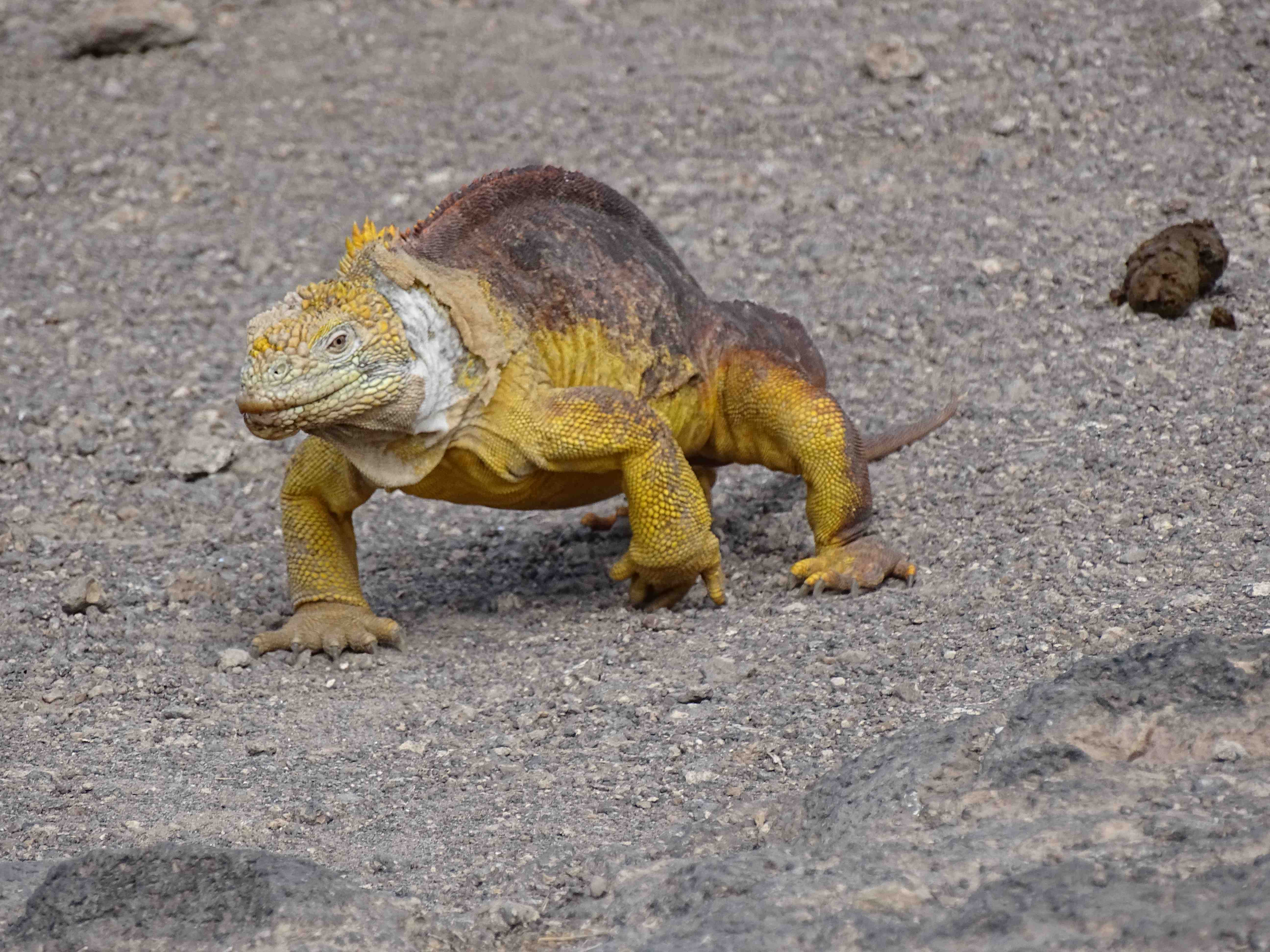 Posted by at 05:34 PM | Comments (0)