December 19, 2014
In a few days I'll be on a well-deserved vacation, cruising the Pacific Ocean with my family. So I'm posting a lot this week of make up for previous and next week's lack of entries.
Tonight is fourth day of Hanukah. To get you in the mood, here are Rabbi Jason's best Hanukah videos of 2014. Enjoy. My one complaint is that every group here seems to be all male. Don't any women or mixed groups sing Hanukah songs? Or is this an Orthodox thing against women's voices?

Posted by at 01:03 PM | Comments (0)
December 17, 2014
Delightful [and educational] Gilbert & Sullivan parody for Bible geeks. I especially like the reference to mumbling with photo of Babylonian incantation bowl.
Posted by at 10:36 AM | Comments (0)
December 15, 2014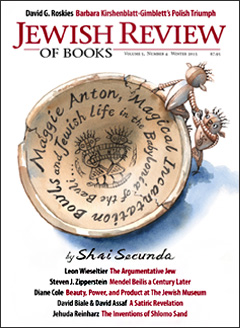 Yes, that's my name on the cover of Jewish Review of Books.
What a Hanukah present!

Posted by at 11:06 PM | Comments (0)
This week I learned about a fantastic [and lengthy] article from an actual Talmud scholar, Shai Secunda of Hebrew Univ of Jerusalem, in the Jewish Review of Books that includes a wonderful review of ENCHANTRESS. Below are a few quotes to whet your appetite to read the entire article, which will also teach you a bit about magic practiced by Jews who produced the Talmud.
"Anton paints a fairly accurate picture of the lightning-fast dialectical give-and-take of the rabbinic study hall, and the sights, sounds, and smells of Babylonian Jewish life in late antiquity. In the first volume we learn a good deal about the making of Mesopotamian beer, and we see how magic bowls were produced, from writing to home installation …
"Meticulously researched, Anton has quite remarkably pieced together an entire life from stray talmudic dicta, which, as she cleverly notes in an afterword, were never intended to directly reflect historical truth: 'The Talmud is clearly not an historical text; some might go so far as to call it historical fiction.' In Rav Hisda's Daughter, Anton has produced a historical synthesis that few talmudists could hope to achieve—were they even tempted to do so …
"By imagining the female relatives of prominent talmudic sages publicly producing magic bowls and other sorceries, Anton locates the magical arts at the very center of classical Jewish life. Unlike historical romances in which sex is breathlessly subversive and sorcery shocks, Anton keeps her sex scenes light and playful and marries traditional rabbinic piety with ancient sorcery. This is what makes Rav Hisda's Daughter so surprising and, one might argue, so compelling. The relentlessly undramatic nature of the series is its genius."
Meticulously researched, remarkably pieced together, a historical synthesis that few talmudists could hope to achieve, compelling, genius – this is high praise indeed. And even more so from one of the foremost experts on the interface between the Babylonian Talmud and the surrounding Persian culture.
Posted by at 10:31 PM | Comments (0)
December 14, 2014
I meant to post last night, to get it online on the auspicious date of 12-13-14. So it's been a week since last update. And what a week it's been – you'll get a nice long report now. Started out great last Sunday: good turnout and excellent book sales at Temple Emanu-El in San Francisco. I was so busy signing copies that I missed the bagel breakfast. Not to worry, as the SVJCC had a scrumptious lunch buffet. But there was good news and bad news. Good news was that there were more walk-ins than expected; bad news [for folks at my next events in Palo Alto] was that luncheon cost included a copy of ENCHANTRESS. Thus every copy I thought I'd need the following day went to the walk-ins.
No problem, I thought. More books are set to arrive from Penguin on Tuesday at the East Bay JCC, where I'm speaking that night. So I'll take orders and mail copies back to Palo Alto on Wednesday. The Monday evening Babylonian dinner at Etz Chayim was so popular that attendance was twice what they expected. Now I was out of RASHI'S DAUGHTERS and down to only a few copies of APPRENTICE for my Tuesday afternoon program at Palo Alto JCC.
But my plans were for naught when I arrived in Berkeley to find that the books hadn't. A few frantic phone calls to UPS determined that though the 4 boxes had arrived at UPS's San Pablo distribution center on Dec 6, they were still there. As it turned out, the police brutality protests/riots in Berkeley kept the turnout for my program down and I only took a few orders. UPS promised they'd be delivered to Berkeley on Wednesday, which was only a short drive from where I'd be speaking at Temple Isaiah in Lafayette that evening.
So my hostess drive me back to Berkeley Wednesday afternoon, after the UPS tracking said the boxes had arrived, except that one box was still missing. Luckily, the first piece of good luck I'd had for days, boxes containing ENCHANTRESS and APPRENTICE were there. Unluckily, a gigantic rainstorm, hyped as the storm of the century, was bearing down on the Bay Area. It was raining, but not heavily, when I spoke Wednesday night in Lafayette, and to my surprise, nearly every seat was filled and I sold plenty of books.
But folks were worried. Schools throughout the region were going to close on Thursday, people were told to stay home from work and avoid unnecessary driving. The synagogue in Redwood City where I was scheduled to speak that night decided to cancel, and I quickly changed my flight back to Los Angeles from Friday leaving from SFO to Thursday morning out of Oakland. Just as well, as SFO cancelled over 200 flights that day.
I wasn't out of the woods [literally] yet. My hostess lived in Orinda, a heavily wooded hilly area 20 minutes north of Oakland Airport. The rain and wind intensified later that night, and we lost power. Between the storm's noise and worrying how we'd get to the airport if we couldn't get the garage door to open, I barely slept. Thankfully power came back on shortly after 6 am, my hostess quickly got the car out and we headed to Oakland.
Normally this would have been bumper-to-bumper morning rush hour traffic, but the freeway was surprisingly empty and we got to the airport in just enough time for me to catch an earlier flight than I'd planned. I didn't care if my luggage didn't get on the plane, just get me out before this airport shut down like SFO and San Jose. They hustled us onto the plane and into our seats at record speed, urging everyone to hurry so we could take off quickly. We had a bit of turbulence flying up through the storm, but then it was fine. I arrived at LAX, along with my luggage, early enough that my husband picked me up before going to work. Hallelujah! Home sweet home.

Posted by at 10:05 PM | Comments (0)
December 08, 2014
Last night, Dec 7, the first of a two-part miniseries based on Anita Diamant's The Red Tent could be seen on Lifetime Channel, and the series concludes tonight. For more about this historical novel based on the story of Dina in Genesis see this article from JTA.
Here's a short excerpt. "In the 17 years since The Red Tent was published, many other novels based on biblical characters have hit the market. Most of them … are by Christian authors and geared toward Christian audiences. Notable exceptions include Maggie Anton's Talmud-inspired Rashi's Daughters trilogy and recently published Rav Hisda's Daughter books"
Indeed, I owe Anita Diamant a huge debt of gratitude for paying the way. When I realized that I would have to self-publish the first volume of Rashi's Daughters if I wanted its pub date to coincide with Rashi's 900th yartzeit, I looked to Red Tent as a template. Apparently the novel sold poorly at first, and even Jewish newspapers declined to review it. When Diamant learned that her publisher planned to pulp the unsold copies, she took them on a whirlwind speaking tour of every Jewish reading group, book fair, and women's organization she could find until the buzz turned the Red Tent into a bestseller. I knew Rashi's Daughters would appeal to that same niche audience and because of her example,

Posted by at 07:04 AM | Comments (513)
December 05, 2014
I can't resist sharing this excellent article, Do You Believe in Magic? Maggie Anton Does, from the J Weekly: Covering the SF Jewish Bay Area, in advance of my 5-day, 7-venue, SF Bay Area book tour Dec 7-11 [note the appropriate "magic-lucky" number dates]. I think I spent almost an hour on the phone with Lyn Davidson. Here's some quotes to whet your appetite to read more.
"The author fleshes out a sprawling cast of characters who come straight from the pages of the Talmud, which Anton has studied for more than 20 years. Enchantress far more than its predecessor, makes the force of magic in ancient Jewish life palpable, with Hisdadukh's lover and later husband, Rava, conjuring a golem, and the two of them facing off against the demon Ashmedai and even the Angel of Death in order to protect the community…
During the course of writing Enchantress, Anton reviewed original sources and corresponded extensively with scholars specializing in the history of Jewish magic. In Enchantress, Hisdadukh applies the lore of potions, healing spells, amulets and incantation bowls she learned as an apprentice sorceress, and readers are drawn into a powerful network of female healers that Anton posits could very well have actually coexisted alongside the early rabbinic academies."

Posted by at 02:21 PM | Comments (0)
December 02, 2014
For those in the Bay Area, I'll be speaking at seven Jewish venues next week between Dec 7-11. Just in time for Hanukah. Here's my schedule; I hope to see some of you there.
Dec 7 - 9:30 am. Congregation Emanu-El. 2 Lake St, San Francisco, CA 94118
Dec 7 - 1 pm. Silicon Valley JCC. Los Gatos CA
Dec 8 - 6 pm. Babylonia dinner and book group talk. Congregation Etz Chayim, Palo Alto CA
Dec 9 - 2:30 pm. Oshman JCC. Palo Alto CA
Dec 9 - 7:30 - 9:00 pm. JCC East Bay 1414 Walnut Street Berkeley, CA 94709
Dec 10 - 7 pm. Temple Isaiah. Lafayette CA
Dec 11 - 7:30 pm. Congregation Beth Jacob, Redwood City CA.

Posted by at 02:46 PM | Comments (0)
November 26, 2014
I finally have a break between book talks, which resume next Sunday in the Bay Area. In case you don't have enough to do over the Thanksgiving weekend, I recommend a fantastic, detailed, and lengthy article on Magic in the Talmud. Here are two snippets from the introduction:
"I see in the Gemara many things .. which were permitted, from the realm of fortune-telling, incantations, and witchcraft .. these are innumerable .. as long as one's intention is for the Heavens, and he knows that the true healer is G d."
(Responsa of the Rashba, 1:413, [1235-1310] Barcelona)

"Neusner claims: Were an anthropologist of our times to spend a few years in ancient Pumbedita, Sura, or Nehardea in order to learn the social role of the sage, his research work would certainly have a title like 'The Legislating Sorcerer of Babylon'."
(Harari, Yuval [1988], Ancient Jewish Magic, doctoral dissertation, Hebrew Univ of Jerusalem, pg. 65)

Posted by at 01:47 PM | Comments (0)
November 19, 2014
I'm posting this blog entry from my comfortable & cozy seat on my way from Sacramento to Bay Area for tonight's program in Pleasanton. Free wifi, electric outlet for my laptop, wide reclining seat with footrest and lots of legroom. Am I flying first class? No, I'm on Amtrak train 537. Even better, it takes less time than flying and there's no security hassle. Last but not least, it's way cheaper than flying [especially with senior discount].
I had a wonderful interview with Rabbi Doug for his TV show when I was in Chicago. We discussed how I became an author, and how the research I did into Jewish women's lives in 11th-century France and 4th-century Babylonia formed the basis for my historical novels about Rashi's daughters and Rav Hisda's daughter. Click to Watch it on YouTube

Posted by at 12:49 PM | Comments (0)
November 15, 2014
Starting Saturday night, I'll be off on another book tour, this time shorter and closer to home as I spend 6 days in No California followed by 3 days in SD, OC and South LA counties. For those in the area, here's my schedule:
Nov 16-2 pm. KOH Library at Mosaic Law Synagogue, Sacramento CA
Nov 18-7 pm. Rosh Chodesh group at Bnai Israel, Sacramento CA
Nov 19-7 pm. Congregation Beth Emek, Pleasanton CA
Nov 20-7:30 pm. Rosh Chodesh group at Temple Beth Am, Los Altos Hills, CA
Nov 23-4 pm. Temple Adat Shalom. 15905 Pomerado Rd, Poway CA 92064
Nov 24-11 am. Saddleback Hadassah, Laguna Woods CA
Nov 25-10:30 am. Hazak brunch. Tikvat Jacob-Beth Torah, Manhattan Beach CA
Here's a link to article in the Pleasanton Weekly about my talk. Headline is "Talmud expert to talk about magic of ancient Babylonia Wednesday -
Author to speak at Congregation Beth Emek on a world where spells were used in everyday life"
Posted by at 09:44 PM | Comments (0)
November 14, 2014
A fan pointed me to a Dvar Torah by Rabbi Cheryl Peretz on this week's parasha that asks the following questions, "Do the dead know what we are thinking about or what we are feeling? Is my deceased loved one able to empathize with my travails? Can someone who has passed away see what I do? Can I communicate with the dead?"
She answers, "These are not new questions introduced by some new age spiritual revolution. These are the age-old questions asked explicitly by rabbis of the Talmud" and then continues by quoting several Talmud passages where the dead do interact with the living. I used these, and others, as the basis of scenes in ENCHANTRESS where my hero and heroine communicate with the dead.
Here's the link for Rabbi Peretz's entire Dvar Torah

Posted by at 12:54 PM | Comments (0)