October 03, 2015
Sukkot is a busy time for me since we use the 9 days as an opportunity to host friends who haven't been to our home recently, possibly not since last Sukkot. Also this is my chance to reciprocate those who have hosted us throughout the year. We have a large lattice-covered patio, two walls provided by our house, that rather easily converts to a sukkah when we hang up some fruit-decorated fabric for a third wall and throw some palm fronds from our garden on top. Living in West Los Angeles, a little more than a mile from the beach, we are blessed with pretty much perfect weather for al fresco dining.
I say all this, not only to brag, but to partially excuse myself for not blogging for over two weeks. I don't want to get into details about my attack of diverticulitis, or as a friend delicately called the "travails of my entrails," only that I was nearly hospitalized. I've been pretty whipped even after finishing the nasty antibiotic regimen, still have occasional abdominal pain, and remain on a restricted diet [thankfully I'm allowed dark chocolate].
Now to answer the important question: Yes, I am writing. In fact I am working on two books, one nonfiction and one novel. But after hearing a TED Talk about how discussing a project in advance actually lessens the chances of finishing it, I've decided to keep mum about them until they're close to complete. This certainly worked for me in getting the first volume of "Rashi's Daughters" written. What I can say is that they both involve Talmud [no surprise] and that I don't have a publishing contract for either.

Posted by at 11:21 PM | Comments (0)
September 28, 2015
The Catch Trap by Marion Zimmer Bradley

My rating: 4 of 5 stars


Wonderful storytelling. Bradley not only brings the traveling circus world to vivid life, but all the characters as well. The gay sex scenes, while not graphic, capture the lust, love, and shame beautifully. I would have given this novel 5 stars but I disliked all the fighting; maybe the 1940-50's circus life was that rough & tumble, and maybe brothers did fight each other a lot in Italian families, but it was too much for me. While I love a happy ending and was both glad and relieved that "Catch Trap" had one, it did seem a little too pat the way everything came together for the heroes. But that's like complaining the bride is too beautiful.

All in all, an excellent read that I stayed up way too late to finish. Thanks, Emily Parkhurst, for recommending this to me.



View all my reviews

Posted by at 01:01 PM | Comments (0)
September 17, 2015
One of my secret vices is a passion for Chinese martial arts movies, dating back to finding Jackie Chan's 1978 Drunken Master. I watched these on cable TV until I finally saw the 2000 masterpiece Crouching Tiger, Hidden Dragon in a theatre. Then came Hero, House of Flying Daggers, The Grandmaster, and of course, Karate Kid [among others]. Netflix and Rotten Tomatoes are a boon for me to catch up on the oldies but goodies.
This week I finally got a chance to see the "93% fresh" Journey to the West. Not only was it excellent, with all the awesome scenery and epic battles against nasty villains one would expect from this genre, but the main theme was redemption and teshuvah. Here's what the film's website says: "In a world plagued by demons who cause great human suffering, young demon hunter Xuan Zang risks his all to conquer a water demon, a pig demon and the demon of all demons, Sun Wukong the Monkey King. Adhering to his firm belief in giving of one's self for the greater cause, our hero, a Buddhist monk, embraces the demons as his disciples. However, in order to atone for their own sins and save the common people, the four of them must embark on a journey to the West that's full of challenges."

There was also quite a bit of comedy, as well as a happy love story [a Chinese friend described their happy love stories as when the hero and/or heroine die in each others' arms after learning that they love each other. Unhappy love stories are where they die thinking their love is unrequited.]
Here's a review that says it well: "As sweet, silly, action-packed and ridiculous as director Steven Chow's best work, Journey to the West serves up dazzling action sequences while playing its disparate elements against each other with thrilling abandon." For an unusual, yet inspirational, film for the Days of Awe, I recommend this one. See more at their website

Posted by at 06:38 PM | Comments (0)
September 11, 2015
Pioneer Girl: The Annotated Autobiography by Laura Ingalls Wilder

My rating: 3 of 5 stars


Some words of warning - this is not light reading. It is a coffee table book, 10"x10" and weighing well over 3 lbs. You need to be a "Little House" diehard fan to slog through all the footnotes, but it's worth it if you, like me, are one. I adored these books as a child and have reread them several times.
But I'm only giving this 3 stars because the editor definitely needed an editor. The numerous footnotes that I first found fascinating soon became tedious, especially when they go onto the following page and interrupt the narrative. Way too many are superfluous, like telling us that "nigger" was commonly used at that time, explaining what a waltz, pelican, coyote, and other well-known things are. I did enjoy learning the historical and political background behind the events Wilder writes about, and as a historical novelist myself, I can appreciate how she massaged some of the "facts" to make a more interesting story.



View all my reviews
Posted by at 04:23 PM | Comments (0)
September 06, 2015

Hush by Eishes Chayil

My rating: 5 of 5 stars


I recently finished reading Hush, another book about women in the Hasidic world, this one for teen audiences. Dealing with sexual abuse in the ultra-Orthodox community, Hush is written under the pseudonym Eishes Chayil [Hebrew for "Woman of Valor," the prayer from Proverb 31 that a Jewish husband traditionally addresses to his wife just before Shabbat dinner].

A hybrid novel-memoir [the author admits changing details to protect people's privacy], this is one of the best books I've read in a long time. The author, who has since come out as Judy Brown [another pseudonym? – doesn't some very Hasidic], manages to expertly balance her horrific subject matter with sweet, and sometimes amusing, vignettes from the heroine Gittel's childhood and family life.

Here's an example of the delightful tumult that surrounds shopping as Gittel prepares to marry: "We combed through Macy's, cleared out Lord & Taylor, and began exploring Bloomingdale's. We made long lists of items needed, stores to check out, and hints to convey to the in-laws. There was the Wedding Night Itself, The Day After, and Life in General, which require an exhaustive investigative committee of experienced wedding people that included my aunt – who married of five, my second cousin – seven; and my mother's former classmate Mrs. Frish and her eleven daughters. Shoes, clothes, lingerie, head coverings, linen – all this needed expert advice on what to buy where, and for how much, and most important of all, how long it would last. Elegant's linen lasted until at least the third child's bed-wetting. We weren't to bother with cheaper brands; they could barely absorb one child's vomit." I have 4 small grandchildren and I couldn't help but chuckle over the last two sentences. Some things are universal.

Nearly all female protagonists in novels are called heroines, but this one really is. After ten years of agony haunted by having found her best friend hanged in her bathroom at age nine after being regularly raped by her older brother [which our heroine witnessed after spending the night there], Gittel challenges her community by publically telling her story and demanding change. Astonishingly, her husband supports her, giving us a hero too – and a hopeful ending to this tragic tale.




View all my reviews

Posted by at 01:28 PM | Comments (0)
September 04, 2015
[Those of you who follow me on Facebook may find this familiar] Nothing like a health emergency as we approach the Days of Awe to make a person reassess priorities. Last Sunday morning, after day and a half of terrible abdominal pain, lethargy, and fever, my husband took me to WLA Kaiser's Urgent Care Center. By the time we got there I could barely stand, and thankfully they called me promptly. My sitting blood pressure was low [70/50] so the nurse had me stand up, at which it point it dropped to 45/22 – which is apparently only slightly better than "almost dead," as they say in Princess Bride.
That brought the doctor in quickly, who ordered IV saline started plus a bunch of blood tests and a CT scan. Nothing by mouth allowed in case I needed surgery. Six hours later, between my highly elevated white blood cell count and the CT scan, I was diagnosed with diverticulitis , and sent home with two antibiotics [Cipro & Flagyl]. I was told to stay on a clear liquid diet for a couple of days, and if all went well, I could switch to BRAT [banana, rice, applesauce and toast]. If I wasn't better in two days, I should come back.
Thankfully I was already better the next day. The pain, while not gone, had lessened considerably, and I had managed to sleep 10 hours with the help of Tylenol PM. Thank goodness for modern medical technology, especially CT scans, which is the gold standard for diagnosing diverticulitis [of course I'd gone online to learn everything I could about my illness].
My regular physician called me Tuesday morning [so early that she woke me up] to see how I was doing and to have me come in to check my blood pressure and white blood cell count to make sure my infection was getting better. Apparently my CT scan was worse than I knew, showing an abscess along with the inflammation of diverticulitis. The CT doc had wanted to hospitalize me so they could start IV antibiotics and I'd be there if the abscess burst, but the Urgent Care doc allowed me to go home.
Today, Friday, the antibiotics are definitely working and my white cell count is normal. I'm graduating from BRAT diet to adding some protein and cooked veggies. This morning added scrambled eggs to my diet, and I plan to add plain yogurt at lunch, then a Shabbat dinner of plain chicken, yams and zucchini [all well-cooked]. At the advice of Kaiser pharmacist, I added probiotic Culturelle to my regimen for 30 days. I don't know if it has helped, but as my Bubbi used to say, "it can't hurt." Yesterday I finally got some exercise by walking to the library [1.5 miles round trip] for more reading material.
Now that the worst is over, it's an awesome thing to think what would have happened if I hadn't gotten to Urgent Care so soon, if I didn't have good medical insurance, if I lived in a third-world country. Last Rosh Hashana might really have been my last Rosh Hashana. I'm sure this year I'll be praying the Un'taneh Tokef [On Rosh Hashana it is written, on Yom Kippur it is sealed … who shall live and who shall die] with particular kavanah.

Posted by at 04:34 PM | Comments (0)
August 20, 2015
Unorthodox: The Scandalous Rejection of my Hasidic Roots by Deborah Feldman

My rating: 3 of 5 stars


This is not the first OTD [Off the Derech] story I've read, so seeing how the Satmar and other ultra-Orthodox women live wasn't so shocking. Deborah Feldman is an excellent writer, but after she was married it seems like all we hear about is her abysmal sex life. When she finally does get divorced, there's nothing about how she managed to keep her son - which she led us to believe would be incredibly difficult. Also no word on how she manages to support herself and her son while attending college; there's only a tiny thanks to her mother in the epilogue for this. Or maybe she's living on a big advance from her publisher. If she and her mother did reconcile, at least enough that she has her mother's support, I think leaving out this critically important part of her life is a disservice to her readers.



In general, I don't understand the interest, bordering on obsession, in ultra-Orthodox Judaism. The number of articles and books about these sects are way out of proportion to their status as a tiny minority of American Jews. Even worse, it seems that quite a number of non-Jews and secular Jews think these cults are the true version of Judaism, viewing the rest of us as lazy or inauthentic.
Posted by at 09:22 AM | Comments (0)
August 19, 2015
The War on Women in Israel: How Religious Radicalism Is Smothering the Voice of a Nation by Elana Maryles Sztokman

My rating: 5 of 5 stars


I gave this book 5 stars not because I loved it but because Goodreads defines 5-stars as "really amazing," which this one certainly is. However as important as I think it is for people [especially women and Jews] to read this book, I must admit that reading it was hard. So many times I just wanted to scream with anger and frustration. Mostly I just wanted to cry at what appears to be a lost cause in Israel, a country I so wanted/hoped to be a light unto the nations. Kol kavod to Sztokman and her fellow feminist warriors at how they fight the good fight, with hope in their hearts. But I don't see anything changing in Israel. As Lord Acton said, "Power tends to corrupt, and absolute power corrupts absolutely" and sadly this applies even/especially to the most religious.



View all my reviews

Posted by at 01:58 PM | Comments (1)
July 31, 2015
Short but bashert finale to my gig as scholar-in-residence, expert on ancient Jewish sorceresses, at the Kohenet Institute retreat. I come home, start checking the mail and news I missed, and find an article in the NY Times Magazine, about modern Jewish amulets. Here I've been lecturing for over two years that ancient Jewish magic is still with us today, and here comes proof from the New York Times.

Posted by at 01:19 PM | Comments (0)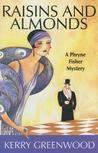 Raisins and Almonds by Kerry Greenwood

My rating: 5 of 5 stars


I found this Miss Fisher Mystery novel even better than the TV version, which left out the subplot of young Zionist men trying to raise money to run guns to 1920's Palestine to establish a Jewish homeland [not PC these days in Australia, I guess]. The author definitely did her Jewish history homework; she also taught me a lot with the various Kabbalah/alchemy texts Phryne studied in order to find the murderer. I thought Kerry Greenwood did a great job with all the Jewish secondary characters, capturing their speech patterns sprinkled with just enough Yiddish words to identify their ethnicity but never straying into caricatures or antisemitic stereotypes. The plot hung together well, and I loved how clever Phryne identified the spy among the Zionists at the very end [no spoiler alert here - you'll need to read it]. Unlike other Miss Fisher Mysteries, Raisins and Almonds had a bibliography and glossary of Yiddish words in the back. Of course there's a new lover for Phryne, a nice Jewish boy too.



View all my reviews

Posted by at 09:24 AM | Comments (0)
July 29, 2015
I am Forbidden by Anouk Markovits

My rating: 2 of 5 stars


Read it quickly and was more than disappointed. I wanted to learn about Hasidic life and while the characters were indeed ultra-Orthodox, their story was horrific. Begins with children watching while Nazis slaughter their families, then more anxiety and suffering until they grow up and marry, followed by adultery with more angst and despair, and then [spoiler alert] the grand finale of two suicides. Sure the writing was excellent, which only made this book more nightmare producing. IMHO - I can read plenty of terrible things everyday in the news, so when I read fiction I want to be uplifted, not depressed. Life is too short to read novels that don't giive me a happy, or at least satisfying, ending.



View all my reviews

Posted by at 01:22 PM | Comments (0)
July 28, 2015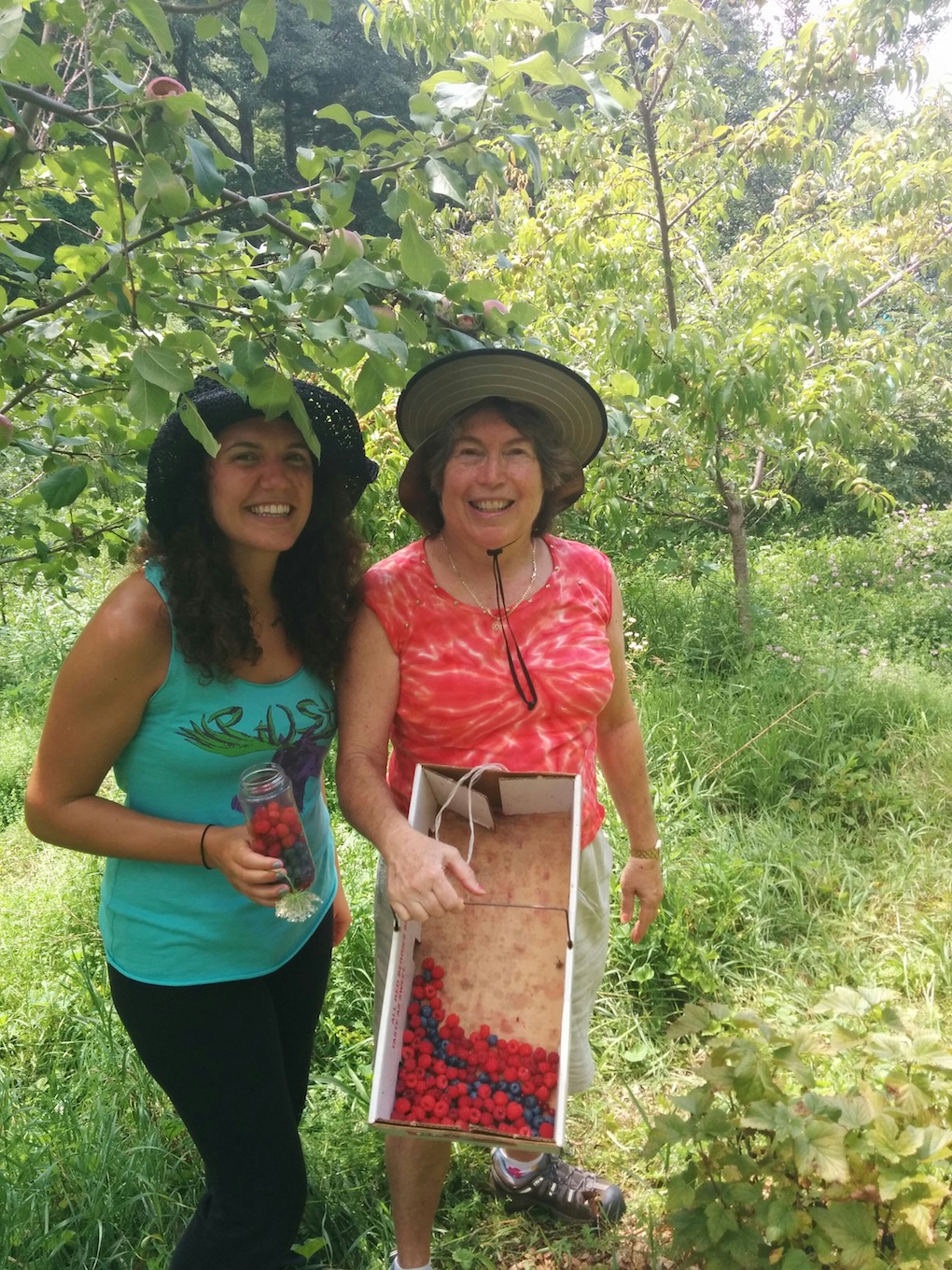 Monday morning I had time between the final activities reserved for the Kohenet women, so I decided to hike the one trail that I'd hadn't trod yet, a rather steep ascent through a mixed fir and aspen forest. It had rained gently during the night and an impressive array of mushrooms greeted me – large flat yellow disks, tiny orange cups, medium-sized red and white speckled saucers, plus an assortment of beigish-grey fungi growing both from the dirt and on the trees. Unfortunately there was also an assortment of mosquitoes forcing me to walk faster than I would have liked, but a refreshing dip in the lake revived me.
There was still a little time left before lunch so I grabbed a plastic cup and headed to the farm for a final chance to pick raspberries for desert. Such deliciousness, following pasta with pesto made from farm-fresh basil and garlic was a sweet way to end my nearly six-day Kohenet Institute retreat. Check out this photo of me & one of the farmhands showing off our berry bounty; plus a link to the farm's website.
Posted by at 05:54 PM | Comments (0)