February 11, 2016
Today I am spending my 66th birthday in transit from Los Angeles to Brooklyn, heading from temperatures in the 80ís to those in the 20ís. Tonight I am having dinner and staying with an old friend and his wife. Old friend indeed, as not only is he several years older than me, but I have known him for over 60 years. His father and mine were business partners, and our families used to vacation together. I was going through my childhood photos recently and found several of us and our siblings together at the beach in dates from 1955-1962. Thanks to modern technology I took pictures of them on my iPhone and emailed them to him, and my sister.
Right now Iím on a JetBlue airplane, 28 minutes from landing at JFK. Thankfully I slept over half the flight, considering that Iíve been on it since 6 am. I spent the rest of the time reading a new English translation of Jacob Dinezonís 1928 Yiddish novel, Hershele: A Jewish Love Story. As Iíve pointed out before, one perk of being somewhat of a well-known author is that publishers occasionally send me galleys of their new books in hopes that I will like them enough to give them a blurb praising them. I intend to do so for "Hershele," but I need to compose it carefully first.
However, I can provide a review I wrote for Helen Shankmanís "In the Land of Armadillos," which I gladly gave a blurb recommending it highly. Since its pub date was last week, I can now share it and you can now obtain your own copy.
ďPopulated with monsters and heroes [human and perhaps not], but mostly with ordinary people caught up in horrific events they neither understood nor controlled - this series of intersecting stories drew me in completely, making read them again to find all the connections I missed the first time ["Armadillos" reminded me of "Cloud Atlas" in that way]. Weaving a tapestry of history and fantasy, Helen Shankman has brought us face to face with both the daily humiliations and terrors, and the occasional close calls and acts of goodness, the Jewish population experienced in this Polish village. The writing is literally fantastic, with flashbacks and flash-forwards mixed in so well I marvel at Shankman's literary skills. For those, like me, weary of Holocaust fiction focused on the death camps, this book is something different, focused primarily on the survivors who, coincidently or magically, were painted by a Jewish artist as cafe patrons in a child's room mural in the opening story.Ē

Posted by at 02:56 PM | Comments (0)
February 05, 2016
As the March 24 pub date for my upcoming nonfiction book [title to be revealed soon] approaches, I am trying to post more updates. So what is new?
1. New websites are up and running. Amazon description is finalized.
2. I received 130 page proofs from the interior designer. In other words, this is a semi-final look inside the book with all the text, quotations, and cartoons laid out as in the actual book. Though printed on 8.5 x 11 inch paper, the printed area is what will appear in the final 5 x 7 inch book.
3. My job is to go over this with a fine-tooth comb to make corrections or any other changes. As long as I donít alter things too much, especially if what I alter doesnít require additional pages or a lot of retyping, the schedule wonít be delayed. When I am absolutely, positively, certain of the final version, then I scan the whole thing to a pdf and return it to my editor Ė BY MONDAY. She and her staff are also going over this for errors and typos as well. That means the final, really final, version should be ready when I return from speaking at Limmud NY over Presidentís Weekend.
4. That final version will go to the 8 blurbers who have volunteered to read it and hopefully provide some praise I can quote.
5. An e-blast to announce the book is ready. I plan to start emailing them when I return on Feb 15. Since G-mail only permits me to send 500 a day and I have over 4000 contacts, that will take me at least a week. So you should get yours sometime between Feb 16-24.

Posted by at 02:12 PM | Comments (0)
January 31, 2016
This is for all my friends on Goodreads as well as anyone, especially other authors, who participate in Goodreads. I just went through all My Books and reshelved them according to official Goodreads genres This was particularly important for books I've written so potential readers can find them. For example, I added France to Rashi's Daughters and changed the not-so-popular Judaica to Jewish and Judaism. I also spelled out Historical Fiction to replace hist-fict.
Now I have a favor to ask from my Goodreads fans, that is anyone who had shelved one of my books as Read, Currently Reading, or To-Be-Read. Could you please add the genres above to your shelf to describe them? Apparently Goodreads will not list any books under a particular genre unless at least two people shelve them as such, and a quick check of those who reviewed Rashiís Daughters showed that the majority didnít assign it to any genre. Other authors may want to alert their readers to do this for their books, and I salute those, apparently few, readers who do shelve their books according to genre.

Posted by at 10:29 AM | Comments (0)
January 27, 2016
The Mathematician's Shiva by Stuart Rojstaczer

My rating: 5 of 5 stars


Those who regularly read my Goodreads updates know I rarely give 5 star reviews. But I not only greatly enjoyed reading this book [a debut novel, no less], I found no flaws worth mentioning. Funny, poignant, clever, delightful, and exciting, with an amazing array of fascinating and fabulous characters. Nice to read a book with a heroic Jewish mother who's a genius and feminist for a change. Most authors are lucky to manage one flashback well, but Stuart Rojstaczer succeeded at taking me back and forth between past, present, and future without ever losing me along the way. I salute his writing skill and hope he won't be a one-book-wonder.

I finish by mentioning that this novel meets the foremost criteria for a book I want to read/write [small spoiler alert] - a happy, or at least satisfying, ending. Only caveat: you don't need to be Jewish or know Yiddish to appreciate this novel, but it doesn't hurt.



View all my reviews
Posted by at 01:39 PM | Comments (0)
January 25, 2016
A friend forwarded me this excellent article about the prevalence of Sorcery in the ancient Middle East, as demonstrated by archaeological evidence of magic devices such as amulets and incantation bowls from the first millennium. Jewish magic items written in Aramaic with Hebrew letters have been unearthed [often literally] in every community Jews lived, from Babylonia to Egypt to Rome.
The important and accepted role of ancient Jewish magic was exactly what I portrayed in my "Rav Hisda's Daughter" historical novels, Apprentice and Enchantress. As this article concludes "one woman's magic was another woman's religion." Still true today.

Posted by at 06:52 PM | Comments (0)
January 20, 2016
It has been five weeks since I last posted a progress report about my upcoming new book, but I am still not ready to "officially" announce its publication via social media. But progress is definitely happening. We have a cute, intriguing title and in my humble opinion, a clever book cover. Of course we have obtained ISBN and PCN numbers, as well as chosen appropriate BISAC subject categories HUMO 14000 [humor/religion] and REL 064000 [religion/Judaism/Talmud]. The beta version of our websites look good and Iíve written the all-important Amazon description.
The book's text has been copyedited and I approved most of the copyeditor's changes. After several emails between me and the illustrator, all the cartoons are finished to my satisfaction. Most recently, the interior designer has given me several examples of how the first ten pages, which is essentially all of chapter one, might look. Based on this I had to choose a style for all of the pages: how the cartoons should be framed; what font and frame, if any, would best suit the quotes; how to indicate Talmud section numbers; font and dingbats for page numbers.
Now comes the tricky part. Due to the complicated interior design, where 78 quotes and 17 cartoon illustrations have to be seamlessly integrated into the text of 50 Talmud discussions, it may be only a week or it may take longer until I get to see what the semifinal manuscript will look like. Then I go over it with a fine-toothed comb, as this is my last time to make changes that wonít delay the pub date or cost money to fix. Thankfully 2016 is a leap year, so I get an extra day in February for later book chores.

Posted by at 06:03 PM | Comments (2)
January 14, 2016
The Marriage of Opposites by Alice Hoffman

My rating: 4 of 5 stars


I enjoyed this historical novel much more than Hoffman's previous two. Her descriptions of 19th-century St. Thomas are gorgeous, blazing with so many colors that I could almost see them. The writing is excellent, and the characters compelled me to follow their stories until they linked up at the end and all secrets were revealed. I was pleased to find none of the horrors of her last novels; her descriptive skills were used to bring the wonderful locations and people to life. A caveat to readers - the protagonist is Pizzarro's mother Rachel, and the novel revolves around her rather than the artist. Which was fine with me.

This novel also made me think about how being Jewish impacted Rachel's life as well as others in her family and community. Also about how a person was either a Jew or not, no matter how much or little they observed religious traditions. Apparently leaving the faith or joining it were impossible.



View all my reviews

Posted by at 03:33 PM | Comments (0)
January 13, 2016
Saturday night I was in the audience at the Jewish Womenís Theater to see comedian Monica Piperís one-woman show, Not That Jewish. Monica not only writes funny stuff [she won an Emmy for the TV show Rugrats], but she is a wonderful stand-up comic. Monica excels in broad physical comedy, especially making faces, a la Lucille Ball, but her shtick is based on her life story as daughter of a traveling stand-up comic, whom she clearly adored, and her ultimately successful efforts to break into this male-centered field herself. Plus there were he unsuccessful efforts to find for herself the loving marriage her parents enjoyed. There are too many laugh-out-load moments to catalog, but there are serious themes among the jokes.
The main one, as suggested by the title, is what constitutes being Jewish. Do you have to belong to a synagogue or is having a Jewish heart sufficient? Do you have to enjoy chopped liver and substitute ďschĒ at the start of words you denigrate? What if you had a bar mitzvah but had been adopted as an infant whose birth mother wasnít Jewish?
Not That Jewish ends this month, and I urge you to see it at The Braid [not The Broad] while you can.

Posted by at 10:16 AM | Comments (0)
January 10, 2016
My grandsons [6 and 9] have been eager to see the Petersen Automotive Museum since they heard it has a section devoted to Pixar's Cars, so I volunteered to take them when school was out. I'd heard good things, but this was even better than I expected. The 3-floor collection of cars, many one of a kind and all immaculately preserved, was awesome, and we didn't even go into the Vault. Some were so beautiful I felt like I was at an art museum, especially on the first floor where an entire wall displayed a constantly-moving series of images that matched the ethereal music.
We were advised to start at the top 3rd floor and work our way down. Third floor is devoted to history of cars, with lots of old autos and motorcycles. There were several interactive displays the boys could do, but they really enjoyed sitting in one of the old ones for a photo op. The 2nd floor was the one they wouldn't have left except they got hungry for lunch. A large children's room has an array of interactive displays, toy cars to race and play with, and books about cars for all ages. They loved the Car-Pads, iPads for each child to use on a scavenger hunt around the 2nd floor that enabled them to design their own race car. What a fantastic activity for kids. Also there was an area where people could do X-Box type racing games where you sit in the driver's seat just like in a fancy/expensive video arcade. Boy was it difficult to get them out of there.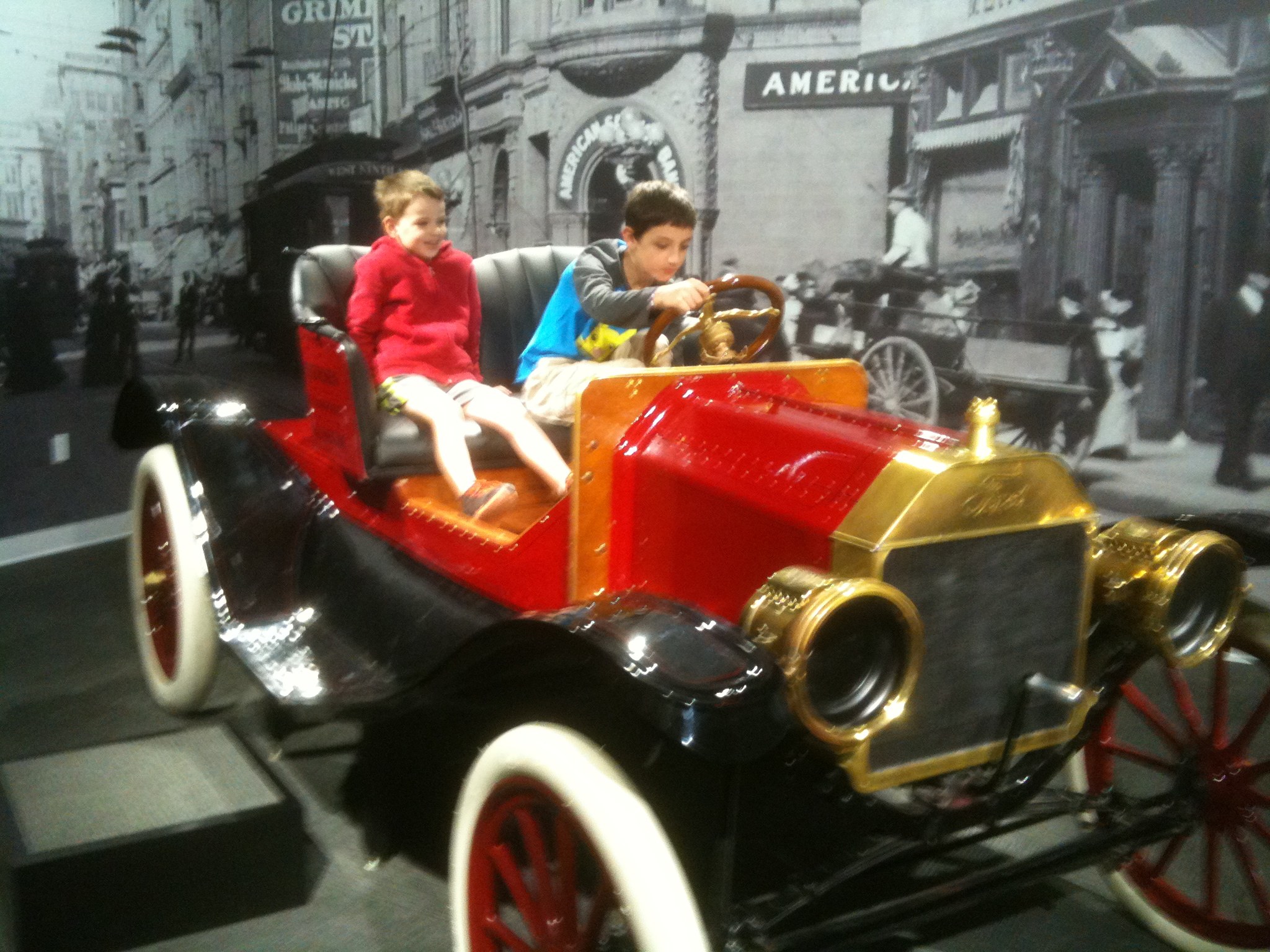 One caveat however. No food is available on the premises, but there is a family area with tables and chairs where we could eat our own lunches. It also had some small cars to play with and books for the kids. So I recommend bringing your own food.
Posted by at 10:56 AM | Comments (0)
January 01, 2016
Peony by Pearl S. Buck

My rating: 4 of 5 stars


This was another difficult book to rate. The writing is exquisite, which is to be expected from a Nobel Prize in literature winner. The plot is classic "happy" Chinese love story, where girl and boy end up knowing that they love each other but are unable to consummate the relationship [classic "unhappy" Chinese love story is where they die never knowing how the other felt]. But I had a hard time with how Pearl S. Buck portrayed the 19th-century Jews of Kaifeng and how their community, which had existed for 1000 years, ultimately disappeared.

I could not ignore that Buck was the daughter of Christian Missionaries, especially when she had the Jewish grandson who most resembled his devout great-grandmother saying [about Christians who wanted to use stones from the last synagogue to built their church], "They belonged to our religion, which has come to an end in this land, but their religion sprang from ours. Let them keep the stones." True Kaifeng's last rabbi died between 1800-1810, and that Jewish community never recovered, but Judaism did not, and has not, come to an end in China. And surely the author knew that. Also I cannot imagine a Jew, even an assimilated Chinese one, speaking so kindly of Christianity when the story makes it clear that pogroms were happening in the West and it was not safe for Jewish merchants to travel there.

Peony's copyright is dated 1948, which means it was written before the State of Israel was founded, likely during the Holocaust. Did the author think European Jewry was coming to an end and want to compare this horrific demise to the gentler fate of Chinese Jews? Or perhaps, like most Americans, she had no knowledge of the death camps, and the timing of this novel's publication is a strange, thought-provoking, coincidence.

Back to my review. My first reason for not giving 5 stars was that the first third is too long and the last third too short. The scenes in Peking take place too quickly considering their importance in how the book ends. Also I was annoyed by Buck's portrayal of the dissolute rabbi's son, who seemed completely extraneous to the story. All the Chinese characters were kind and good, except for the Chief Steward, whose behavior was integral to the plot. Even the chief bandit wasn't so bad.



View all my reviews

Posted by at 09:43 PM | Comments (0)
December 30, 2015
I promised to share my other two sessions at Limmud NY right away, but they updated the schedule and I wanted to give out the latest information. The two talks I detailed in my previous post were based on my unexpected journey to become a historical novelist, and what I learned while researching "Rashiís Daughters". These two are based on what I learned about Rav Hisdaís daughter and her two husbands. Assuming all goes according to plan with my upcoming book, which shall not be named [yet], I will probably announce it that Presidents Day Weekend. At least I wonít be keeping it a secret any longer.
"Jewish Sorceresses in the Talmud: Esteemed Professionals, not Back-Alley Conjurers" - Maggie Anton will discuss the research behind her newest novels, Apprentice and Enchantress, which take place in 4th century Babylonia. There the Talmud is being created by the rabbis to innovate and rejuvenate Judaism after the destruction of Jerusalem's Holy Temple. At the same time, archaeological evidence, supported by the Talmud itself, shows us that some women in rabbinic families were practicing sorcery, an esteemed profession in the very land where the word "magic" originated. [Saturday afternoon]
"Ancient Jewish Magic: What is it and How it is still with us Today" - Maggie Anton will discuss the research behind her newest novels, Apprentice and Enchantress, which take place in 4th century Babylonia. She will focus on the latest findings about ancient Jewish magic, including archaeological evidence like incantation bowls, amulets, and magic manuals, plus spells from the Talmud itself. Some of these spells have formed the basis for prayers and blessings found in today's prayerbooks. [Sunday evening]

Posted by at 10:23 PM | Comments (0)
December 25, 2015
I saw in LA Times that there's a nasty norovirus going around. So be sure to follow Rav Hisda's daughter's ancient magic practice: after visiting the privy, wash your hands 3x while saying the asher yatzar prayer. Maybe 150 years ago this procedure would have been dismissed as superstitious hocus-pocus, but today we know it is good public health.

Posted by at 01:18 PM | Comments (0)