March 27, 2017
why submit for book award
As a Benjamin Franklin Award finalist, I was queried by the IBPA Magazine editor for an article on book awards. Here are her questions and my answers, which certainly made me think about the subject.
Q: Do you submit to book publishing awards often?
A: No - at least I don't think so. To which ones do you submit? My four historical novels published by Penguin have each been submitted for a National Jewish Book Award, but that is the only one. I submitted my recent nonfiction book, published by my own small press, only for a Ben Franklin.
Q: What value do you gain from submitting to (and/or winning) book publishing awards?
A: Considering that Penguin paid for submitting the books they published, I had nothing to lose. But the value was in getting my novels in front of Jewish book mavens, and thus increasing the buzz. My fourth novel was chosen a National Jewish Book Award finalist, but I didn't see any increase in sales, and nearly all my fans only learned about this award because I told them about it. I think Ben Franklin Awards are even less well known.
Q: Tell me about your submission(s) to this year's Benjamin Franklin Awards.
A: I submitted Fifty Shades of Talmud: What the First Rabbis Had to Say about You-Know-What, a small light-hearted nonfiction look at sexuality in the Talmud, in the Humor and Religion categories. I didn't have great expectations, and was curious how it would do with a predominantly non-Jewish group. If nothing else, the judges might tell others about it and add to the buzz. I was pleasantly surprised that my book was chosen as a finalist.
Q: What tips, if any, do you have for those interested in submitting for an award?
A: Even if your book wins, don't expect to see anything more than a modest increase in sales; after all, you're not getting a Nobel or Pulitzer. Most readers will learn about your award [if they do] from your own promotional efforts, not from any mainstream media. Think of submitting for an award as just another way of getting your book in front of more eyes.

Posted by maggie at
11:50 PM
|
Comments (0)
March 19, 2017
2006 Ben Franklin award
In case you didn't know, back in 2004 my then literary agent was unable to interest a publisher in my first Rashi's Daughters novel. However I was so determined to get the book out for Rashi's 900th yartzeit in July 2005 that my husband and I started our own small press to do so. We called it "Banot Press," Banot being Hebrew for "daughters." With help from a book shepherd, Sharon Goldinger of PeopleSpeak, we hired editors, cover and interior designers, a printer and a distributor.
The result, Rashi's Daughters: Book I – Joheved, was impressive enough that Sharon suggested entering it for a Ben Franklin Award in three categories: Historical Fiction, Best New Voice: Fiction (first book by a new author), and Best First Book: Fiction (initial title from a new publisher). At least those are the three categories I recall entering, mainly because my book was chosen as one of three finalists in them.
Back in 2006, the Ben Franklin Awards were given out at a dinner ceremony at the end of BEA [Book Expo America], which was held that year in New York City. I was in town anyway on book tour, and since the award dinner was free for finalists, I figured I might as well attend. Boy was I amazed to walk into a grand ballroom with tables set for over a thousand people. An elaborate buffet lined two walls, and the food was clearly levels above the "rubber convention chicken" I'd expected. As the room grew more crowded by the minute, I frantically looked around for a place to sit.
Suddenly I heard someone calling my name, and thank Heaven, there was Sharon, waving me over to her table. I had no sooner gotten my meal and sat down to eat than Sharon asked if I'd written my acceptance speeches. What?! I was supposed to get up on stage and give a speech if my book won? In front of a thousand publishing mavens? She pulled out the program, which I hadn't taken time to look at, and to my horror, the first awards to be announced were those for Best New Voice in Fiction, Nonfiction, and Children's/Young Adult.
Dinner was forgotten as I desperately cribbed some notes on a napkin. Thankfully the Children's and Nonfiction awards came first so I could hear what those winners said. It was an impressive ceremony. First the category was announced, then each finalist was described as its cover appeared on a large screen above the stage. Finally, as the winning book title was named, its cover grew and the others shrank until only the victor's cover remained, occupying the entire screen. It was an awesome moment, and I don't know if I was more afraid of winning or losing.
If you read my last post, you know Rashi's Daughters: Book I – Joheved won Best New Voice: Fiction. My book's cover gradually filled the screen, and the enormous ballroom echoed with applause as I slowly made my way to the stage, total strangers stopping me to offer congratulations. It was like the Academy Awards. I even received a large, and heavy, trophy.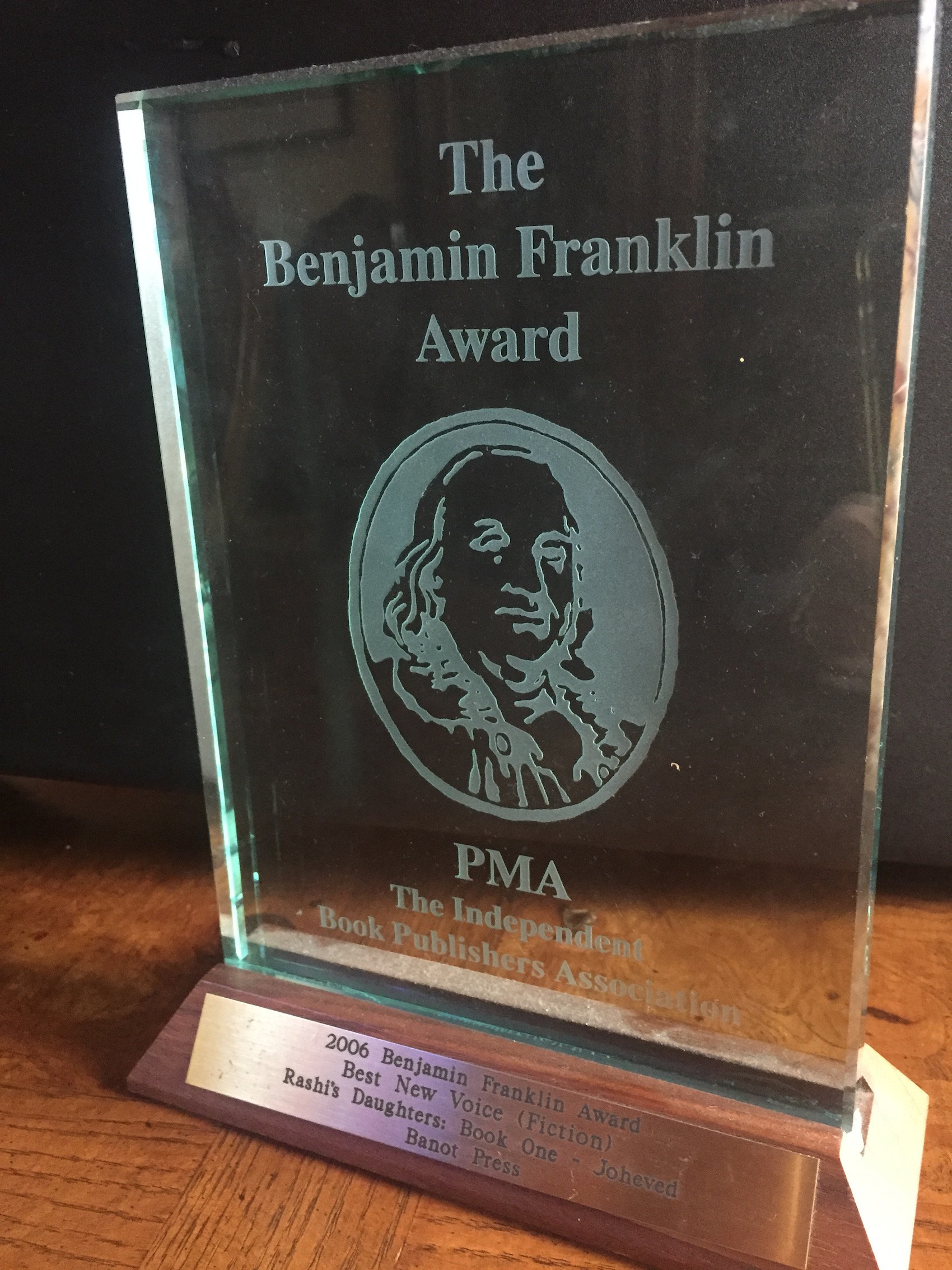 Posted by maggie at
07:13 PM
|
Comments (0)
March 16, 2017
Ben Franklin Award nominee
Oy gevalt, it has been an entire month since my last blog post. Yes, I was away in Arizona for almost two week and then off to another book tour in Sacramento, but I'll be honest and admit that I remain in such a funk from the election that it is difficult to get motivated.
But now I have some good news. Last fall I entered "Fifty Shades of Talmud" for both the National Jewish Book Awards [in the Women Studies and Book Group categories] and the IBPA Ben Franklin Awards [in the Religion and Humor categories]. I didn't expect to become a Jewish Book Award finalist since neither category was a particularly good fit for my book. However I figured the entry fees were worth paying because it would get "Fifty Shades of Talmud" read by many judges, all movers and shakers in the world of Jewish books. So I was more relieved than disappointed when others books were nominated instead, especially since winning would force me to use my own funds to accept the award in NYC in the dead of winter.
To my surprise and gratification, "Fifty Shades of Talmud" is one of three finalists for the Ben Franklin Award in the humor category. Most of my readers have probably never heard of IBPA [Independent Book Publishers Association] despite it being the largest nonprofit trade association of independent and small publishers since 1983. Given in 55 categories including subjects like travel, cookbooks, children, poetry, LGBT, as well as some for various kinds of design like interior and cover, a IBPA Benjamin Franklin Award for excellence in book publishing is regarded as one of the highest national honors for small and independent publishers.
Eleven years later, I am still proud and honored that my very first book, "Rashi's Daughter: Book I – Joheved", won the Ben Franklin Award for "Best New Voice: Fiction" in 2006. The beautiful [and heavy] trophy enjoys a prominent place in my living room to this day. My next blog post will continue with what it was like to receive such a prestigious award. For more in IPBA, here is their website

Posted by maggie at
08:27 PM
|
Comments (0)