2006 Ben Franklin award
In case you didn't know, back in 2004 my then literary agent was unable to interest a publisher in my first Rashi's Daughters novel. However I was so determined to get the book out for Rashi's 900th yartzeit in July 2005 that my husband and I started our own small press to do so. We called it "Banot Press," Banot being Hebrew for "daughters." With help from a book shepherd, Sharon Goldinger of PeopleSpeak, we hired editors, cover and interior designers, a printer and a distributor.
The result, Rashi's Daughters: Book I – Joheved, was impressive enough that Sharon suggested entering it for a Ben Franklin Award in three categories: Historical Fiction, Best New Voice: Fiction (first book by a new author), and Best First Book: Fiction (initial title from a new publisher). At least those are the three categories I recall entering, mainly because my book was chosen as one of three finalists in them.
Back in 2006, the Ben Franklin Awards were given out at a dinner ceremony at the end of BEA [Book Expo America], which was held that year in New York City. I was in town anyway on book tour, and since the award dinner was free for finalists, I figured I might as well attend. Boy was I amazed to walk into a grand ballroom with tables set for over a thousand people. An elaborate buffet lined two walls, and the food was clearly levels above the "rubber convention chicken" I'd expected. As the room grew more crowded by the minute, I frantically looked around for a place to sit.
Suddenly I heard someone calling my name, and thank Heaven, there was Sharon, waving me over to her table. I had no sooner gotten my meal and sat down to eat than Sharon asked if I'd written my acceptance speeches. What?! I was supposed to get up on stage and give a speech if my book won? In front of a thousand publishing mavens? She pulled out the program, which I hadn't taken time to look at, and to my horror, the first awards to be announced were those for Best New Voice in Fiction, Nonfiction, and Children's/Young Adult.
Dinner was forgotten as I desperately cribbed some notes on a napkin. Thankfully the Children's and Nonfiction awards came first so I could hear what those winners said. It was an impressive ceremony. First the category was announced, then each finalist was described as its cover appeared on a large screen above the stage. Finally, as the winning book title was named, its cover grew and the others shrank until only the victor's cover remained, occupying the entire screen. It was an awesome moment, and I don't know if I was more afraid of winning or losing.
If you read my last post, you know Rashi's Daughters: Book I – Joheved won Best New Voice: Fiction. My book's cover gradually filled the screen, and the enormous ballroom echoed with applause as I slowly made my way to the stage, total strangers stopping me to offer congratulations. It was like the Academy Awards. I even received a large, and heavy, trophy.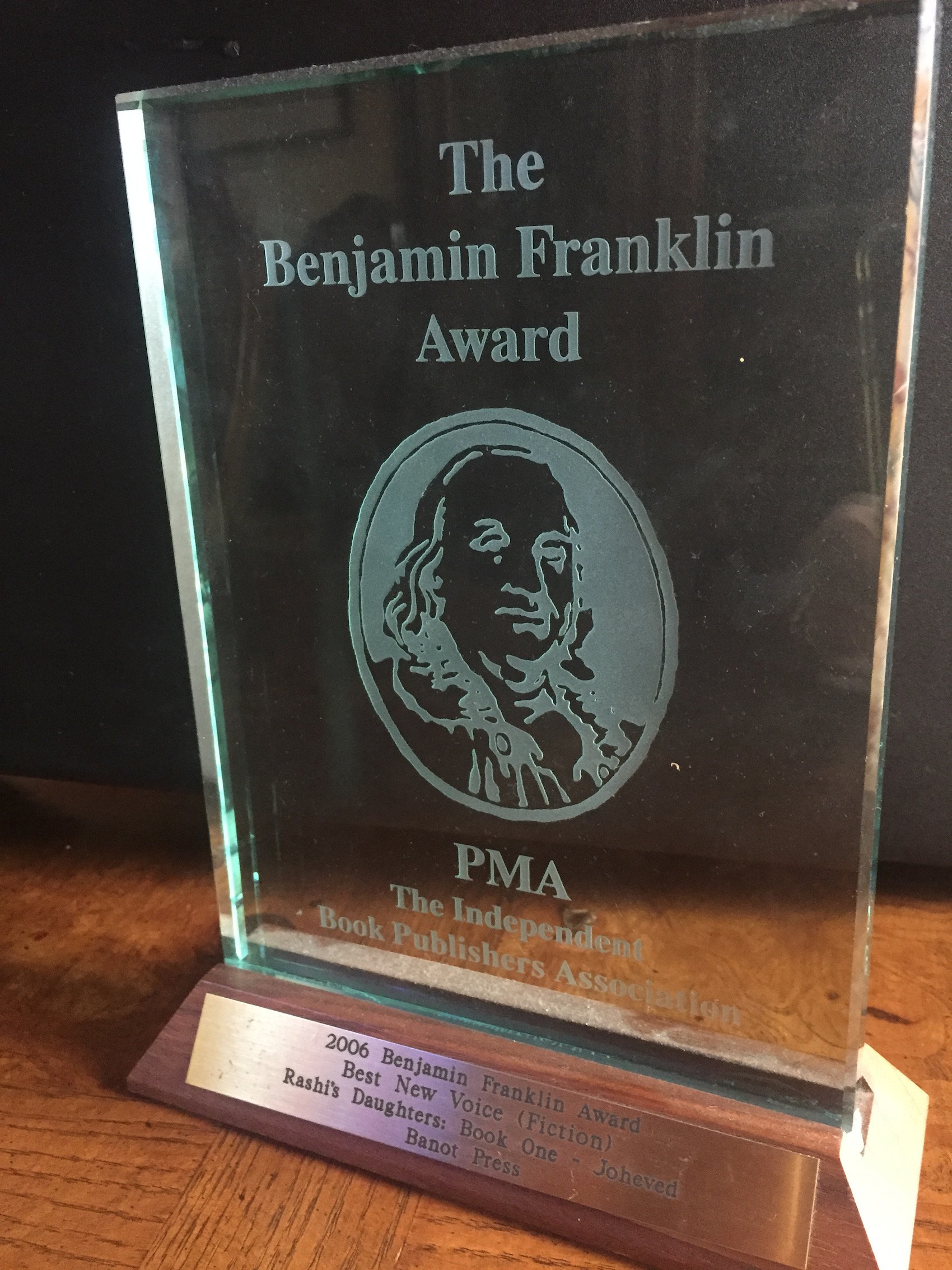 Posted by maggie at
07:13 PM
|
Comments (0)